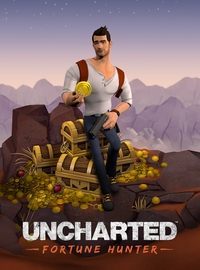 Uncharted: Fortune Hunter
A mobile spin-off of the popular series of adventure games developed by Naughty Dog. This installment accompanies the debut of the fourth full-fledged game in the series.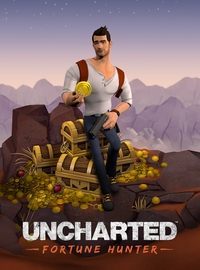 Uncharted: Fortune Hunter is a logic game released on AND and iOS. It is a side installment of the console series of Uncharted games. The game uses free-to-play distribution model with microtransactions. It was developed by studio PlayStation Mobile which is part of Sony.
Plot
In difference to console installments of the series which are well known for interesting plots told with cinematic style, the mobile Uncharted: Fortune Hunter has no specific storyline. It is a series of challenges in which the adventure seeker Nathan Drake is trying to obtain the lost treasures of greatest pirates, adventurers and thieves in history. His best friend, Sully, helps him achieve this task.
Mechanics
There are more than 200 levels in four different areas waiting to be completed. Each level is a big puzzle with many moving parts. The player is tasked with getting from starting point to the selected destination. The maps are built from square fields. Some of them are regular platforms on which one can freely walk, other contain traps, items or interactive mechanisms. The player must move through the locations and manipulate the surroundings in such way that Nathan reaches the finish line in one piece.
Progress in the game is rewarded with various items and unlocks. Many of them can help in completing further levels. In addition to that, players can connect to PlayStation Network with their PSN accounts and their successes in Uncharted: Fortune Hunter released on AND and iOS can unlock multiplayer bonuses such as skins, relics and one-time bonuses in the console game Uncharted 4: A Thief's End.
Similar games:
Age Rating
age requirements: 12+