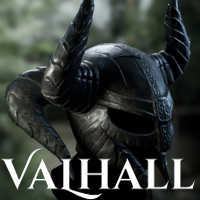 Game mode: multiplayer
Multiplayer mode: Internet, players: 50

game language: English
game release date for PC:
The official release date of the game for PC has not been announced yet.
VALHALL is a battle royale multiplayer game set in the Middle Ages, in which players assume the role of Vikings fighting to the death to stop Ragnarok and save the Nine Worlds. The game was created by an independent studio called Blackrose Arts, which created the game described herein thanks to a crowdfunding campaign.
Plot
In the game players control the fate of one of the survivors of Odin's army after the last fight. His brothers are dead. Before the player, however, there is no time to rest or mourn the dead, because a new threat is awaiting. This is known to every Viking as Ragnarok, and it is the players' duty to do everything they can to prevent it. To do this, one needs to get Odin's sword. Players are thus forced to fight for the legendary weapon, to control the fate of the Nine Worlds and protect them from extinction.
Mechanics
VALHALL is a multiplayer game for up to 50 players at a time. As in a typical battle royale, the winner is the one who stays alive as the last one. All this takes place on a map divided into four sectors, different in terms of the seasons, weather conditions, and environmental details. As time goes by, the gravitational fields surrounding the map become smaller and smaller moving towards the middle, and players have to stay inside them to survive.
The scenery depicted in the game includes cities, towns, castles, forts, forests, meadows, and ice-covered plains.
Combat system in VALHALL is dynamic thus it requires skill and a knowing one's opponents. Most skirmishes take place in close quarters. Players can mount attacks from different angles, parry with a shield, and evade in any direction.
In VALHALL one can choose between different types of weapons, typical for Viking warriors - swords, axes, shields, and many others. One can improve these with runes, giving them special abilities and an interesting visual effect. In addition to the weapons, players can gain equipment in the form of a better armor or helmet. The better the gear, the more damage one can deal and take. Better armor protects players from premature death. Ranged weapons in the form of bows also increase one's combat efficiency. All these elements are scattered around the game world and are only waiting to be collected.
The action can be observed from the first or third person perspective so all players can find the optimal setting for themselves.
It is possible to pretend to be dead in order to take our opponent astray and attack him by surprise, or to save one's own skin at a critical moment.
Technical aspects
The game has a built-in voice chat, allowing free communication with opponents.

Expectations: 5.3 / 10 calculated out of 11 players' votes.