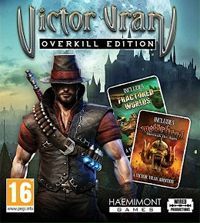 Game mode: single / multiplayer
Multiplayer mode: Internet, players: 1-2
Victor Vran: Overkill Edition for SWITCH, PC and etc. is the extended edition of the 2015 action RPG Victor Vran. This edition comes with two big expansions that introduce new areas and challenges. They do not introduce any new gameplay mechanics.
The Plot
We play as Victor Vran, the titular monster hunter, who fears nothing. In the base game, Victor searches for his lost friend and ends up in a land called Zagoravia. It turns out that its inhabitans are threatened by monsters, so Vran decides to make us of his skills help them.
First expansion, Fractured Worlds, takes the titular monster hunter to another dimension made of fragments of other worlds. We will find four dungeons that change on a daily basis, and one called Fracture that has no end.
The second expansion, Motorhead: Through the Ages, faces Victor with a mission of cleansing three worlds overrun by demons. To do so, he has to use the power of the immortal band. Member of Motorhead, including Lemmy, were actively aiding Haemimont Games in the development process. Aditionally, locations introduced in this add-on are named after the bandís songs, i.e. Pub in the End of Time.
Mechanics
Victor Vran: Overkill Edition for SWITCH, PC and etc. is an action RPG. Combat take place real-time and the playerís manual skills influence his or hers victory. We get experience points for killing our opponents and use them to level up and upgrade our hero. What is important is the fact that the game has no class division. Victor can use any type of weapon we find (there are guns and cold steel weapons available), but the equipped wepon influences what special abilities we can use and what combo attacks we can do. Each weapon has its own different attack speed, range, and damage type. Properly chosen weapons will make us more effective against specific types of enemies.
Combat system was complemented with new magical items, like the destiny cards. They give Victor all kinds of buffs, like increased movement speed. The game also has a crafting system called Transmutation that allows the players to upgrade their weapons or create special talismans.
Expansions included in Overkill Edition introduce endless dungeons filled with monsters and increase the level cap up to 60. Aditionally, the game has a coop mode for up to four players that can be played on split-screen or online.
Technical Aspects
Victor Vran: Overkill Edition for SWITCH, PC and etc. has decent 3D visuals. Many times our screends will be filled with all kinds of colours as we attack and use special abilities. Explosions, electric shocks, and flames contrast with the grim, gloomy areas and dungeons. In Motorhead: Through the Ages, the game has a rock and roll and heavy metal soundtrack consisting of Motorheadís songs only.
Similar games:
PEGI Rating
System requirements
Minimum:
Dual Core 2 GHz
4 GB RAM
graphic card 1 GB GeForce 460/Radeon HD 4870 X2
Windows Vista(SP2)/7/8
Recommended:
Quad Core 2.5 GHz
8 GB RAM
graphic card 1 GB GeForce 560/Radeon HD 5850 or better
Windows 7/8 64-bit