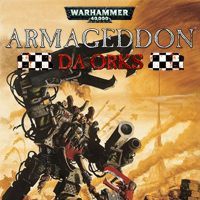 Game mode: single / multiplayer
Multiplayer mode: E-mail, players: 1 - 2
Warhammer 40,000: Armageddon – Da Orks is another expansion for turn-based strategy game for PC and iOS set in the universe of Warhammer 40,000. Similarly to base version and previous add-ons, the title is the work of collaboration of duo The Lordz Games Studio and Flashback Games with an acknowledged publisher Slitherine. Unlike earlier expansions, Da Orks is a completely standalone production and thus does not require basic game.
Plot
Year 941 of first 41st millennium, solar system of Armageddon planet. Humans have discovered seemingly abandoned ship. When they try to investigate what treasures and mysteries it contains, it turns out to be another trick of Orks, determined to spread death and destruction across completely unprepared Empire of Man. The fate of Armageddon's inhabitants is on the line, again.
But we don't play as humans and lead armies of greenskins as Ghazgkhull Thraka instead; he's one of the most famous Orks' warbosses from the original board game, with a very simple objective – to make biggest invasion on the Empire in history and prove once and for all that "humies is all weak and deserve ta get stomped".
Game mechanics
As far as gameplay goes, Warhammer 40,000: Armageddon – Da Orks does not differ from the basic game, being a classic turn-based strategy title, though with some RPG features. We lead army of Orks against Imperial forces of Space Marines and Armageddon Steel Legion in various locations – from open spaces, through jungles, volcanic canyons and polluted rivers, up to cities. We can choose from over 400 units introduced in this expansion, divided into seven classes and described with twenty different parameters. On the top of that, they can be armed with 200 varied weapons.
Like the original game, Da Orks offers dynamic story campaign for single player, consisting of three acts with 18 missions. Each of them can be victory or major defeat, depending on player's actions. Our units pass from missions to mission, becoming more experienced and upgrading their equipment.
Game modes
Aside from story campaign, the game also offer cross-platform multiplayer through award-winning PBEM2++ system of Slitherine company. There are ten maps designed for multiplayer to play on, with five varied factions to lead: Orks, Steel Legion, Salamanders, Ultramarines and Blood Angels.
Technical aspects
Warhammer 40,000: Armageddon – Da Orks for PC and iOS doesn't improve on audiovisuals or in technical aspects. However, it again offers a powerful and easy to use scenarios editor.
Similar games:
PEGI Rating
System requirements
PC / Windows
Minimum: Intel Pentium 4 1.8 GHz, 1 GB RAM, graphic card 256 MB, Windows Vista/7/8/10