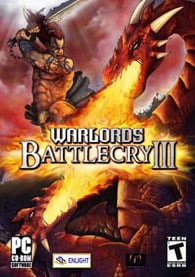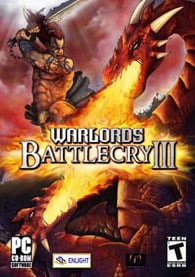 Warlords: Battlecry III
PC
The third part of a series of strategy games with cRPG elements taking place in the magic-filled world of fantasy Etheria. This time players can take part in the great war that takes place between the united races of the north and the southern Ssrathi Empire.
Strategy | fantasy | RTS | horror | RPG elements
Warlords: Battlecry III

Release Date PC

17May2004
developer: Infinity Plus Two / Infinite Interactive publisher: Enlight Software Official website

game language: English
It was only a matter of time before the Selentine Merchants ventured too far from their trade routes, over the South Seas, searching for rich lands that might lay beyond. But they were unprepared for the terrors they would awaken, and the devastation they would unleash upon the world of Etheria.
At first, the southern continent seemed a peaceful, idyllic place - warm and tropical. But that would soon change. Although rich in gold and silver, the Selentines soon met the inhabitants of this new land - snake-like creatures who called themselves Ssrathi and their land¡K Keshan. They were names that would come to be feared in later years.
The Selentines slew these first Ssrathi and took their gold, thinking them simple and primitive. But Nature too is simple and primitive, and it wields the most destructive powers and so it was with the Ssrathi. Their empire was large, their knowledge of magic extensive, and their Shaman-King, Iriki, was a creature whom even the Gods rightly feared.
The war that followed would change the face of Etheria forever.
Join with the many races of Etheria as you fight your way through the ruins, jungles and deserts of the southern continent of Keshan, searching for new lands to conquer, and the treasure with which you might build an Empire
Or take the role of the Ssrathi the snakemen of Keshan as they repel the invaders and then unleash the full might of their empire upon the northern realms!
Persistent Heroes
Sixteen different races, twenty-eight different classes.
Retinues
To accompany your HERO in to battle.
Full map editor
Random Maps, skirmish Mode.
New Spells and Magic Items
More than one hundred and thirty spells over thirteen different spheres of magic. New Magic Items many of them special & rare, some even able to cast spells.
Five New Races
Plaguelords, Saurians, Swarm. The old Human side will be split into Knights & Empire. This will include new units and new buildings.
New Hero Development System
All of your old favorites plus eight new classes combine together in a new hero system that is easier to learn but harder to master than before. Take heroes beyond level 50. Gain levels while actually playing the game.
New Terrain
Rock & Lava terrain, along with Jungle, Ruins and subterranean caverns.
New Soundtrack
High quality soundtrack featuring thematic music, all at CD-Audio quality.
Lots of New Dragons
Players will be able to produce six different coloured dragons all with unique abilities and breath weapons.
New Buildings
Many different shops will allow players to purchase items & troops to aid them in battle. The variety of different Lairs will produce neutral units that will roam the map seeking out trouble.
Game mode: single / multiplayer Multiplayer mode: Internet
Media type: 1 CD
User score: 8,5 / 10 based on 1404 votes.
PEGI rating Warlords: Battlecry III
Warlords: Battlecry III System requirements
Recommended:
Pentium III 600 MHz
256 MB RAM
16 MB graphic card