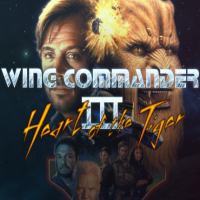 Wing Commander III: Heart of the Tiger
Continuation of the star Wing Commander saga in the form of an interactive film with live actors. The Confederacy loses the war with Kilrathi on all fronts. Lieutenant Christopher Blair, stationed on the aircraft carrier Victory, may change the course of the war.
Simulation | FPP | science fiction | Space Simulator | Cosmic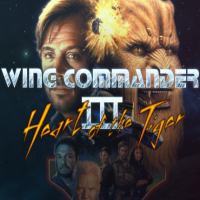 In the game we return to the reality of the cosmic war waged by the Earth's Confederacy with the cat-like breed Kilrathi. The hero of the game, lieutenant Christopher Blair (played by Mark Hamill), mourns the loss of his beloved Angel, who did not return from a strictly secret mission with Covert Operations. Unfortunately, there is no time to idly mortify, because the course of the war is unsuccessful for people. Our previous ship, Concordia, has been destroyed and the Federation has suffered significant losses on all front lines. Blair is transferred to Victory's old aircraft carrier, whose actions will help repel enemy attacks and tip the scales of victory. In the meantime, we will have to deal with leaks of secret information from the deck of Victory. As in the previous parts of the game story develops depending on the way and effectiveness of our mission. Our failures will lead to defeat and destruction of the cradle of mankind, while successes will lead to a final crackdown on Kilrathi and their native planet.
Please let us know if you have any comments or suggestions regarding this description.
Age Rating
age requirements: 12+
System requirements
Recommended: IBM PC AT 486, 8MB RAM + wykorzystuje joystick