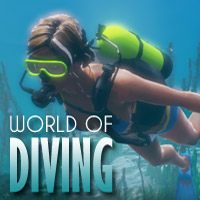 Game mode: single / multiplayer
Multiplayer mode: Internet
World of Diving is a diving simulator designed with the view of multiplayer gameplay. The title was developed by Danish studio Vertigo Games and released for PS4 and PC. The game supports VR headsets.
Mechanics
Players start their virtual career of a professional diver in the Caribbean, where they compete in various sports competitions, take a number of exploration missions or hunt wild animals, including the infamous white shark. All in all, there are over one hundred species dwelling in the depths of the ocean. In most part, the game world is generated procedurally, which resulted in a huge area to explore. There is also no shortage of predesigned locations, based on real locations. Apart from natural caves and the bottom of the sea you get to explore sunken ships and submarines as well as undersea ruins.
Game modes
Gameplay in World of Diving on PS4 and PC is multiplayer-focused, therefore, many missions require more than one diver to complete. However, those who prefer solo play can use AI-controlled companions for those. Apart from co-op missions, there are also some competitive game modes, based on either typical sports or treasure hunting.
Technical aspects
In terms of gameplay mechanics, the developers of World of Diving went toward realism. The game's simple user interface and numerous tutorials make it easy even for complete beginners to handle the basic rules of diving. World of Diving also lets you go above the surface of the sea. There are many clubs and yachts in the game, where you can make new friends or plan future journes.