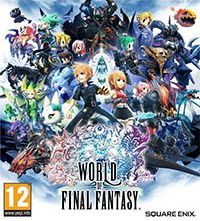 World of Final Fantasy for PC, PS4 and PSV is a jRPG game that is a spin-off of Final Fantasy series, prepared with the youngest users of PlayStation family consoles. Its creator, Hiroki Chiba (involved in the series since the first half of 90s) wanted to create a title that will once again attract children, which were somewhat disheartened towards Final Fantasy series ever since the "photorealistic visuals" started to play a part. Similarly to the other titles in the series, Square Enix is the developer responsible for World of Final Fantasy.
Plot
The plot of World of Final Fantasy takes place in Grimore – a completely new world, but the characters and creatures known from all previous Final Fantasy titles make an appearance (e.g. Cloud Strife, or chocobo). What's interesting, this world is divided into two dimensions – in the first one, the characters look "normally", while in the second one they assume a cute form of chibi. The main characters of the story are Rain and Lon, twins who fulfill their great destiny, experiencing various adventures.
Mechanics
The mechanics of World of Final Fantasy for PC, PS4 and PSV are basically the same as in the previous installments of the series – we have random encounters with enemies during exploration, which are turn-based using the Active Time Battle system. However, the gameplay was somewhat simplified, in order to not intimidate younger players. The important aspect of World of Final Fantasy is taming various animals to use them during combat. During encounters we can put them one upon another – "towers" created in such a way allow for using special attacks, which depend on the number of used animals and their placing. The existence of two dimensions also has its influence on Grimoire – switching between them changes not only outside looks, but also the statistics and abilities of the creatures.
Misc.
To conclude, it is worth mentioning that World of Final Fantasy contains cross-platform functionalities, enabling, for example, the use of your saved games on a different console from PlayStation family.
PEGI Rating
System requirements
PC / Windows
Recommended: Intel Core i3 2.4 GHz, 8 GB RAM, graphic card 2 GB GeForce GTX 660 / Radeon HD 7850 or better, 15 GB HDD, Windows 8/10 64-bit
Minimum: Intel Core i3 2.0 GHz, 4 GB RAM, graphic card 1 GB GeForce GTS 450 / Radeon HD 5770 or better, 15 GB HDD, Windows 7 64-bit