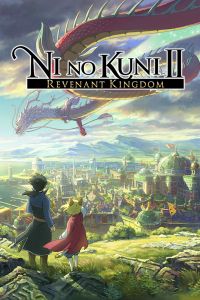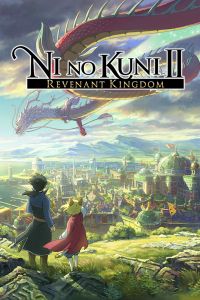 Ni no Kuni II: Revenant Kingdom
Ni no Kuni II: Revenant Kingdom is the next installment in the jRPG series developed by Level 5. Young king Evan Pettiwhisker Tildrum is the game's protagonist. After our hero was banished from his own kingdom, a fellow named Roland decides to help him get his throne back.
RPG | TPP | fantasy | elements of strategy | action RPG | jRPG
Ni no Kuni II: Revenant Kingdom for PC and PS4 is a sequel to Ni no Kuni: Wrath of the White Witch – a well-received jRPG released in 2013 (1.1 milion copies sold to the retailers). The game was announced during the 2015 PlayStation Experience event. Level 5, experts in jRPGs, developed the title. Level 5's back catalogue includes Dark Cloud, Inazuma Eleven, White Knight Chronicles, or Dragon Quest VIII: Journey of the Cursed King. Bandai Namco Entertainment, known for game series such as Tekken, Pac-Man, and Dark Souls, published Revenant Kingdom.
The Plot
We play as the young king Even Pettiwhisker Tildrum who was expelled from his kingdom. In a twist of fate, a fellow named Roland ends up in this magical world and decides to help the young ruler in regaining his rightful place at the throne. Unfortunately, our heroes will have to face other problems, as dark clouds appeared above the city of Ding Dong Dell and the entire world is threatened by evil.
Mechanics
In terms of gameplay mechanics, Ni no Kuni II: Revenant Kingdom for PC and PS4 is a bit different than the first game in the series. Like in many jRPGs, we will explore the game's rich world, encounter many NPCs, recruit new team members, and face many challenges, but there are also some new features present in Revenant Kingdom. One of them is the system that will allow us to create our own kingdom. Other changers focus on combat mechanics, which is now real-time. Players can also switch between the party members anytime they want to during battle. Each of our heroes has different style when it comes to combat. Roland is great in hand-to-hand fighting, Tani is more reliable in ranged attacks, and Evan is overall universal.
The Higgledies creatures known from the first game come back in Revenant Kingdom. We can point them an enemy we want to whomp, tell them to jump on the back of a boss we are fighting with to create a diversion, or tell them which special attack they should perform. Additionally, Higgledies come in many elemental variants – the red one, for instance, use fire.
Technical Aspects
Just like the first game, Ni no Kuni II: Revenant Kingdom for PC and PS4 has beautiful visuals. Developers managed to create a beautiful world. Thanks to the cell-shading technology Revenant Kingdom looks like the anime movies from Studio Ghibli. Style, however, is not everything. Lighting effects used in the game are also advanced.
Game mode: single player
User score: 7,1 / 10 based on 297 votes.
Pre-release expectations: 8.7 / 10 based on 53 votes.
PEGI rating Ni no Kuni II: Revenant Kingdom
Ni no Kuni II: Revenant Kingdom System requirements
Minimum:
Intel Core i5-4460 3
2 GHz/AMD FX-6300 3.5 GHz
4 GB RAM
graphic card 2 GB GeForce GTX 750 Ti/Radeon R7 260x or better
40 GB HDD
Windows 7 SP1/8/10 64-bit
Recommended:
Intel Core i7-3770 3
4 GHz/AMD FX-8350 4.0 GHz
8 GB RAM
graphic card 4 GB GeForce GTX 970/Radeon R9 290 or better
40 GB HDD
Windows 7 SP1/8/10 64-bit