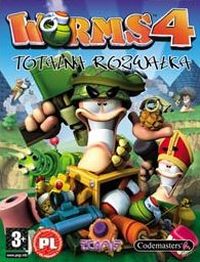 Worms 4: Mayhem
Worms 4: Mayhem is the next installment of the popular series dealing with clashes armed to the teeth, intelligent, talkative and at the same time extremely funny title worms.
Strategy | TPP | turn-based | arcade elements | co-op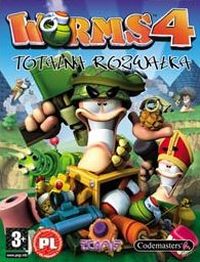 Game mode: single / multiplayer
Multiplayer mode: local network / Internet
Worms 4: Mayhem is a return to the series' trademark gameplay and sees Team 17's core Worms design and development team regrouping for a game of explosive annelid annihilation. Worms 4: Mayhem is set to launch on PlayStation 2, Xbox and PC in Q2 2005 and, returning to the series' roots, our brave invertebrates are back to knock ten shades of hell out of each other in open arenas. With players controlling the worms in single player or 4-player team games, everyone's armed with a massive variety of wild weapons, as ingenious as they are incendiary.
And for the first time in any Worms game, you can let your imagination run riot and create your own weapons! Using a genius device, called Weapons Factory, you'll be able to create your own weapon and enjoy the freedom to annihilate your opponents in your own unique way. You want to make Exploding Chickens or Toilet Bombs? You got it.
The worms' armoury of brilliantly conceived classic weapons return and is built on with even more devilish devices. Plus, prepare to cause chaos and humiliate your enemy with a host of new weapons that create new strategies and gameplay possibilities including the Poison Arrow, Sentry Gun, Tail Nail and the Bovine Blitz, which unleashes a bombing raid of cows.
The customisation options don't stop at crafting new weapons. Another first is the ability to customise your worms, choosing their hair, hands, faces, glasses and dying words - all with Worms trademark humour.
The multiplayer mayhem and single-player shenanigans are spread over five themed zones - Jurassic, Camelot, Arabian, Construction and Wild West - and, throughout the enlarged landscapes, the entirely destructible scenery is back with even greater effect.
In single-player modes there's even more beyond the day-to-day business of destroying worms. Through the 25 missions, you're also charged with objectives such as recovering items or smashing scenery. All the single-player maps are available to play in multiplayer mode, along with a further set of 20 multiplayer-specific maps.
With bold levels, an improved 3D camera and animation system, a stunning arsenal delivering comedy kabooms, the loveable, customisable, yet entirely destructible, worms will be back in force.
PEGI Rating
System requirements
Recommended:
Pentium 4 1.5 GHz
512 MB RAM
graphic card 128MB (GeForce 3 or better)
800 MB HDD
Windows XP