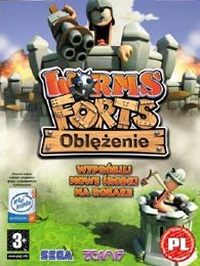 Game mode: single / multiplayer
Multiplayer mode: local network / Internet, players: 1 - 4
Worms Forts: Under Siege puts you in command of a crack team of up to four fort-dwelling worms. Set in the cartoon environments that will be familiar to previous Worms players, you direct your four strong worm garrison to quickly construct defences to maximize your strategic advantage; expand your castle so as to seize valuable victory locations and of course, build massively destructive weapons to destroy your opponents' fortifications!
Test yourself against the single player game by battling through the 20 missions... And when you've finished that, take on up to four of your friends in the frenzy of destruction that is fort vs. fort mode.
Worms Forts: Under Siege uniquely combines buildings and siege weapons with the dark and zany humour you have come to expect in the Worms universe, in true 3D battles. This is not a normal strategy game - the emphasis is firmly on console: its immediate, it's fast and it's also furious! It's a race against time to destroy your opponent first before he destroys you!
What does Worms Forts: Under Siege have in store? Check out these great game features:
- Hot seat play - up to four players can play on one console...
- Game-play mechanics based on the same skill and cunning that made Worms a hit. Judge shot power and trajectory to make your enemies pay the ultimate price for opposing you.
- Massive weapons and massive destruction! Catapults, cannons, giant crossbows, bows and arrows, flaming oil, rocket launchers, artillery fire, air strikes, napalm... even nuclear strikes!
- Build your own castle: ramparts, towers, walls, citadels and keeps. But be careful: different buildings give you different special powers and weapons. Choose poorly and you may find yourself behind in the arms race.
- Deformable 3D fortifications! You want to blow craters in your enemy's castle? Then take aim and do it, and watch it crumble before your very eyes!
- Travel the world and through time by taking on the historically-set single player missions. From Ancient Egypt to The might of the Roman Empire!
- Consider your strategy: do you expand to seize territory and valuable resources, repair damage, or concentrate on upgrading your technology?
- Beat the clock, constructing castle walls and fortifications, taking aim and firing and choosing your strategy as the seconds tick away. Can you handle the pressure?
- Un-lockable features as missions are completed: new weapons, new building components, new environments, and new fort styles.
- A package with more destruction, action, strategy, laughs and fun than you can shake a large and unfeasibly sinister stick at!
Similar games:
PEGI Rating
System requirements
Recommended: Pentium III 1 GHz, 512 MB RAM, graphic card 128MB, 1 GB HDD