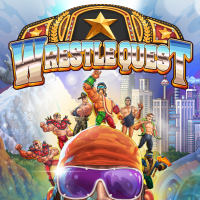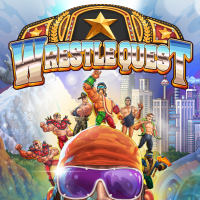 WrestleQuest
A wacky RPG, in which we play as an aspiring wrestler. WrestleQuest has us exploring different areas, talk to NPCs, complete quests and participate in turn-based battles.
RPG | turn-based | wrestling | 2D | humorous | indie games | jRPG
WrestleQuest is a wacky wrestling RPG inspired by Japanese games. It was developed by an indie team Mega Cat Studios and published by Skybound Games.
Plot
WrestleQuest has us playing as a rookie wrestler dreaming of world fame. Led by such stars as "Macho Man" Randy Savage, Jake the Snake Roberts and Andre the Giant, we gradually ascend the career ladder. The game is rather self-aware, full of absurd humour and fantasy themes.
Mechanics
WrestleQuest makes use of the top-down perspective. Players must traverse through various wacky locations, talk to NPCs and complete quests. We're not along on our journey, as along the way we'll gather a party of other wrestlers.
As befitting its theme, combat is a large part of the game. Battles are turn-based, requiring skillful use of our characters' abilities and team attacks (we can have up to two allies at once with us). Some actions are simple QTEs, requiring timed button prompts. We'll often use the environment in battle, while our special attacks are all surreal, such as magical spells or throwing huge burritos. The enemies are just as unusual; aside from wrestlers, we'll face various monsters.
As we progress through the game, we develop our fighter, adapting his combat style to our preferences. There's a wide range of moves, taunts and entrances to choose from, letting us create our own unique wrestler.
Technical aspects
WrestleQuest features colorful, pixelart visuals. The soundtrack constantly keeps the player going during combat.
Last updated on 08 August 2023
Game mode: single player
Age restrictions WrestleQuest: 12+
WrestleQuest System requirements
Minimum:
Intel Core i5-750 2.67 GHz
8 GB RAM
graphic card 2 GB GeForce GTX 670 or better
15 GB HDD
Windows 10 64-bit