Mobile Game Guides & Walkthroughs
Video Game Guides, Walkthroughs and Game Maps for Mobile Devices as Smartphones and Tablets running on Android and iOS. Downloadable Adobe PDF guides for both PC and Mobile.
How to Get Mobile Guides
There are four ways to read our Game Guides on Mobile Devices.
If you own any Apple device - either an iPad or an iPhone - you can download our Free iOS App from AppStore.
If you have any other mobile device like a Smartphone, a Tablet or an ebook Reader, you can download our guides in the ePub format and read them in any free ePub Reader apps.
Our guides are also available in the Apple iBooks as books for download. You can find links to these ebooks on our website, on a corresponding page to a guide that you're interested in.
You can also download our guides in the PDF format that is universal to all devices (also for Desktop PC). You can find our Game Guides in PDF format on a corresponding page to a guide that you're interested in.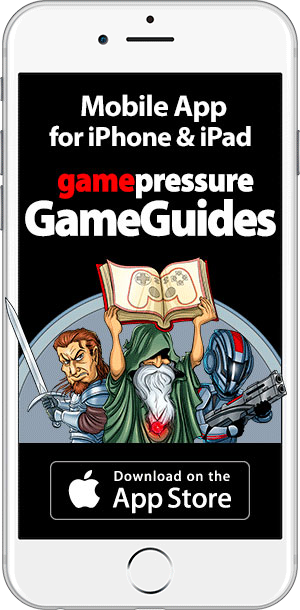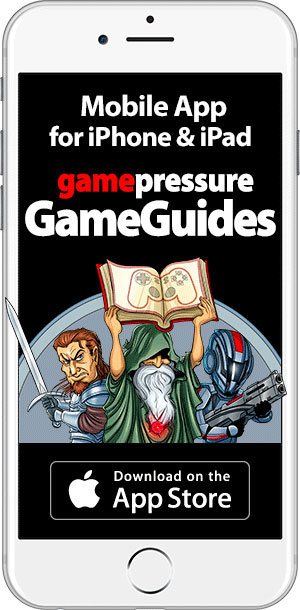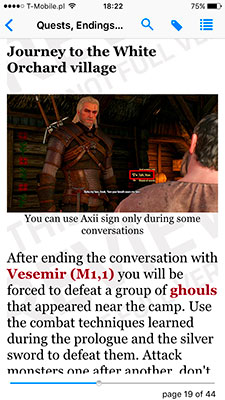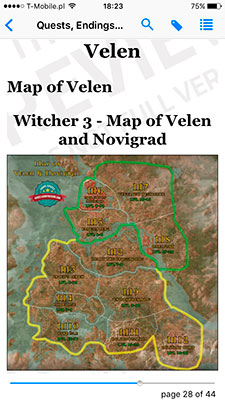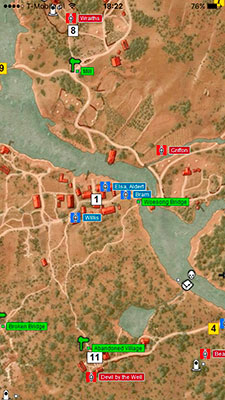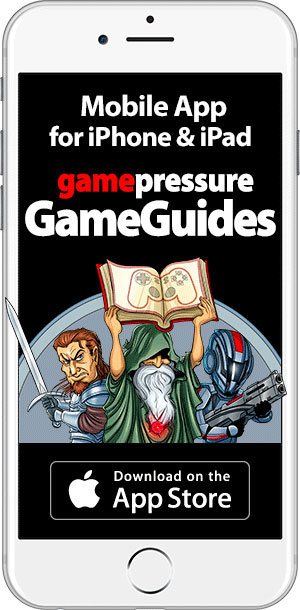 Free Mobile App for iOS
Gamepressure Game Guides App will provide you, every week with 10 free, full, extensive guides and walkthroughs for popular video games, that you will be able to download to your device and always use for free, without Internet connection.
This free app works on all Apple devices with iOS 9.0+, including iPhones and iPads.
The app has a constantly updated, large database of high quality game guides, walkthroughs and atlases with game maps. Guides are detailed and richly illustrated, modified and updated by the best gamers.
10 free guides every week? Yes, you will be able to download 10 new game guides every week, and save them to your device. You can use these guides for free with no limitations and completely legally for as long as you want.
Premium purchases within the App The app also makes it possible for you to get immediate, paid access to every guide of the total of over 700 guides available in our database and download them to your device.
10 Free Guides for this week
In the Gamepressure Game Guides App you have the ability to download each week for free 10 new full game guides.
Here is a list of free guides for current week.
Available from 10 December 2023 to 17 December 2023
Bounty Train Game Guide
DARK Game Guide
GreedFall Guide
LEGO Harry Potter Years 1-4 Guide & Walkthrough
Mafia Definitive Edition Guide, Walkthrough
Metal Gear Solid V: The Phantom Pain Game Guide & Walkthrough
Might & Magic: Heroes VI - Shades of Darkness Game Guide
Mutant Year Zero Road to Eden Guide
Sid Meier's Civilization V - Brave New World Game Guide
Watch Dogs Game Guide
Downloadable Formats
If you want to download Game Guide directly from guides.gamepressure.com, locate the desired guide on our website and choose one of the following icons:
Universal ePUB Format
EPUB (.epub) is a free and open e-book standard. You can use it on almost every mobile and desktop device using a proper free reader.
Guides as Apple iBooks
Go to Apple iBooks and get this guide for iPad, iPhone and iPod in iBook format.
Download PDF Guides
PDF (Portable Document Format) is a device independent universal Adobe file format. Use free Adobe Reader to view and print this guide.
FAQ for Guides App
How does the download of 10 free guides work?
Every week in the Gamepressure Game Guides app you will see a special offer of 10 video game guides that are available for free to all the users of the app. Each week everyone can download 10 guides that will be added to the guides library without any additional charges. If you want to be sure that you don't miss out on any free guide, make sure to check the Gamepressure Game Guides app at least once a week to download all the free guides that you're interested in on your iPhone and iPad.
Do I need a special account so that I can save my free guides?
No. All the downloaded video game guides are automatically assigned to the device that you're using.
What the guides look like?
If you would like to see what our guides look like, download an exemplary Magrunner: Dark Pulse Guide for free.
How to open and print files in PDF format?
If your operating system does not open PDF files, you will need to install a free version of Adobe Reader.
How to open files in ePUB format?
The gamepressure.com guides, which come in the EPUB format, require special software for viewing electronic books. Although there is a wide selection of those, available in the market, they offer varying quality. To ensure the highest comfort of viewing our guides, we recommend either of the two, free-to download, programs:
Moon Reader for the Android operating system and Calibre for the computers with the Windows, OS X and Linux operating systems. The former is available in the Google Play store, whereas the latter can be found on the program's official website. Apple computer users can also make use of free application iBooks available on the App Store.
Setting up of Moon Reader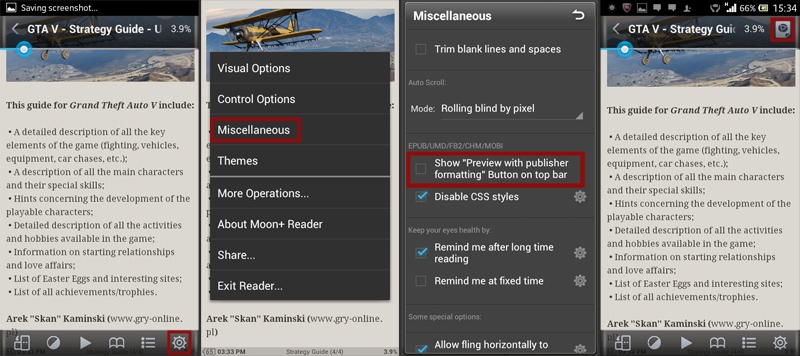 Moon Reader works well for viewing our guides but, before it is used, you need to make sure that it has been set up properly. To do that, you need to access the program's options (by clicking on the icon in the lower-right corner of the screen), select "Miscellaneous", and check the box next to Show "Preview with publisher formatting" button on the bar. This way, you will make an icon appear in the upper-right corner. By clicking it, you can either enable, or disable the publisher's formatting. This option is worth using in the case of any problems while viewing the guide.
Other applications
Still, if you decide to use a different application of your preference, we recommend that you don't use its default formatting of the books. It can make screenshots overlap or may not handle displaying tables that well. Nevertheless, each reader should be capable of displaying the guides.
In some cases, the guide may contain large-sized maps. To be able to view them, the reader must be equipped with an option to increase or reduce the size of screens. The best way to check if the program that you are using on your mobile device meets these requirements, is to hold your finger down on the screen, or double-tap it. If the option does not work, we recommend that you install a different app.
We hope that with the information we provided, you will experience no problems using our guides, and completing games will become a pure joy. Have a nice play!
Great ePUB Game Guides and Walkthroughs at https://www.gamepressure.com/guides/