News
video games
09 June 2023, 23:49
New Gameplay From AC Mirage Shows Ubisoft Returning to the Roots
New gameplay footage from Assassin's Creed: Mirage has appeared online. It presents how the title will return to the roots of the series.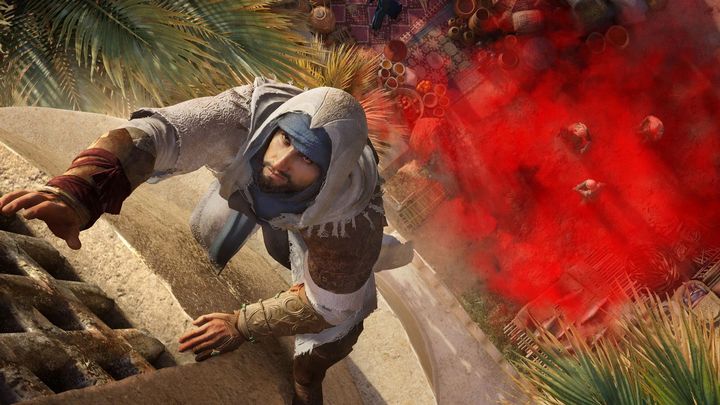 Ubisoft gave us a surprise just before the Ubisoft Forward show (scheduled for June 12), presenting a new video from Assassin's Creed: Mirage. This time the developers discussed and demonstrated mechanics that resemble those known from older installments of the popular action game series - especially the first one. Of course, all this in a modernized edition. So what will we see in the upcoming installment?
The game will emphasize stealth. Therefore, instead of direct combat we will have to rely on stealth attacks or hiding in crowds. Interestingly, to return is the hidden blade attack delivered from a sitting position, among other things known from Assassin's Creed II.
The artificial intelligence of enemies will be improved.. In the latest installment of the series they are to use their equipment in such a way as to make things more difficult for us. Among other things, a spear-wielding guard checking haystacks was presented as an example.
A lot of emphasis will also be placed on parkour elements. In addition to the familiar moves, there will also be brand new ones - including the ability to jump between distant rooftops using a pole.
For fans of the first Assassin's Creed a special graphics filter is provided, which makes the colors faded - along the lines of the first game
If you are interested in all aspects of the gameplay, which will be inspired by the classic installments of the series, you can watch the video available above. In addition to gameplay fragments, you will find quite a few comments from the developers.
Assassin's Creed: Mirage will debut on October 12 2023 on PC (via Epic Games Store and Ubisoft Store), PS4, PS5, Xbox One and Xbox Series X/S.