News
guides
08 May 2023, 21:05
Black Screen in Darkest Dungeon 2 - Steam Deck and PC Fix
In this guide we will talk about Black Screen problem in Darkest Dungeon 2. You will find here some fixes for this problem on PC and Steam Deck.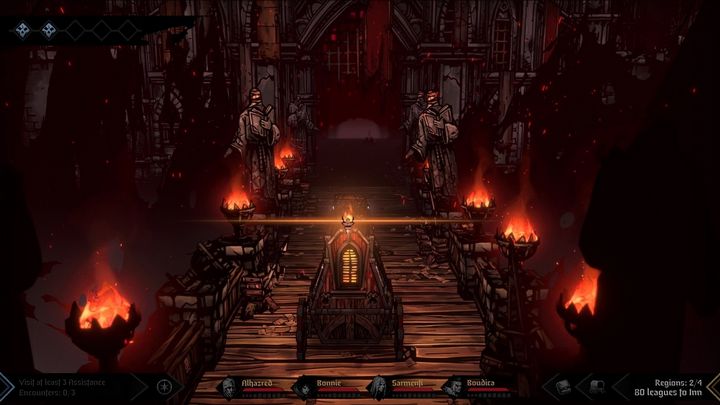 Darkest Dungeon 2 is the next title in the well-liked Darkest Dungeon series. It incorporates both familiar and innovative concepts, creating a unique and distinct experience from the previous game. Despite these changes, many fans have been eagerly anticipating its full release. In this guide we will talk about Black Screen bug. Learn how to fix it on PC and Steam Deck.
Remember that fixes presented below are based on players' experiences. They might not help you. You use them at your own risk.
Black Screen on Steam Deck
Enable Proton Experimental. This helped many players:
Pick Darkest Dungeon 2 in your Library
Enter Properties.
Select the Compatibility menu.
Make sure that "Force the use of a specific Steam Play compatibility tool" is checked.
Pick from the list Proton Experimental.
Remember that right now the game is not officially supported on Steam Deck. You have to prepare your own controller layout or the game will not function properly (eventually download a community key binding, if you find something suitable). What is important, Steam Deck will be officially supported, however not on 1.0 release.
Black Screen on PC
Update your Drivers – it is very simple solution, but many people forget about it. You should try it before anything else.
Turn off V-Sync in your Nvidia Controls.
If your Windows' version is 10 N, download and install Media Feature Pack, you can do this here: https://support.microsoft.com/en-us/topic/media-feature-pack-list-for-windows-n-editions-c1c6fffa-d052-8338-7a79-a4bb980a700a. After that reset your PC.
Are you stuck in a loading screen? Change regional settings to English (US). Enter Control Panel (use Windows search bar), open Clock and Region, select Region and pick the proper setting.
If you have played in Early Acess, it is possible that there is conflicting save file. Go to C:\Users\UserName\AppData\LocalLow\RedHook\Darkest Dungeon II\ And delete local save files. Additionally, enter Epic Games Store and in Settings disable cloud sync.
Read more:
To discover more about the game, you can consult our guide. It contains many intriguing details: Darkest Dungeon 2 Guide.
If you're not interested in purchasing the game on release, you may consider playing the previous instalment of the series. We have created a guide to assist you, which can be found here: Darkest Dungeon Guide.