News
guides
21 November 2023, 06:06
Remnant 2 Awakened King Weapon List
In this guide, you will learn about the list of weapons available in Remnant 2 Awakened King. Read our article to learn more.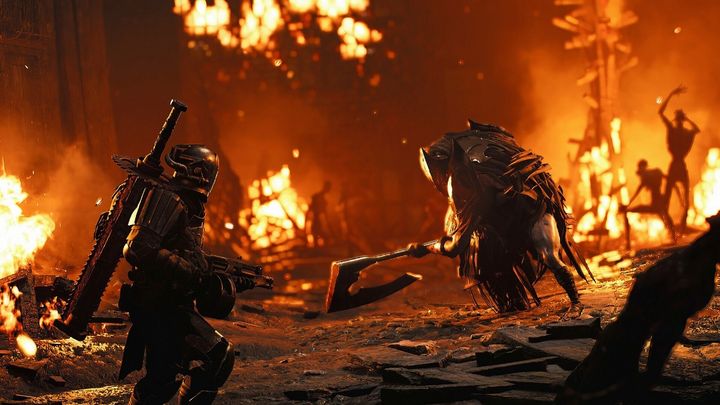 Source: Remnant 2, Developer: Gunfire Games
i
Remnant 2 is a dark action game with RPG elements, in which there is no shortage of challenging battles. In order for the battle effectiveness of your character to be high, it is worth ensuring that they have good equipment. Thanks to this guide you will learn the list of all weapons available in Remnant 2 Awakened King.
List of Weapons in the Remnant 2 Awakened King DLC
Melee weapons
Abyssal Hook – Head to the sewers area before reaching the Manticore Lair in Forlorn Coast.
Ritualist Scythe – Clear Forgotten Commune and Befouled Altars to get two parts of Scythe.
Steel Scythe – The weapon can be obtained by unlocking The Ritualist Archetype.
Wrathbringer – The weapon can be created by McCabe in Ward 13. You need to have 1x Tormentor's Pommel, 7x Lumenite Crystal and 1000 scrap.
Long Guns
Monarch – Go to McCabe and give him the Agony Spike. The item can be obtained by defeating One True King.
Sparkfire Shotgun – Can be obtained at Derelict Lighthouse.
Hand Gun
Anguish – start a new campaign and reach Root Earth, play until you reach the forst major encounter hidden behind a fog gate. Now roll Losomne and find Ethernal Manor event. Once in it, use Liquid Escape and travel to Consecrated Throne and from there to Ward 13. Now, talk to NPC Dran in various locations – Ward 13, Red Throne (Yaesha), The Labyrinth (part of the Campaign), Forgotten Prison (N'Erud), Ashen Wasteland (Root Earth), Tormented Asylum (Losomn). After the last conversation, you will get an item – Dran's Dream. Use it and transport to the new location. There, you will find the Occult Vessel. Take it to McCabe to craft the weapon.
List of New Items in Remnant 2 Awakened King
Armor Sets
Crimson Guard Set – One True King Losomn (you need Red Prince dungeon in OTK world), give coins to Red Prince and kill OTK, go to Leywise and talk to Red King in One True King room.
Zealot's Set – Nimue's Tower,
Hearts
Broken Heart – Kill Nimue,
Paper Heart – Use Scribe Medallion in Chamber of the Faithless (door to the right).
Traits
Dark Pact – Hit 3 Bells in Forlorn Coast.
Archetypes
Ritualist – Drowned Wen, follow the boats and defeat the witch.
Mutators
Dreadful – Forlorn Coast, kill Dire Fiend aberration,
Executor – Drowned Wen, let the witch transform pig into Little Gorge aberration,
Fetid Wounds – Ward 13, Dwell,
Guts – Forgotten Commune, finish altars then see NPC, kill Cursed Wretch aberration,
Maelstrom – Nimue's Tower, kill Mangled Atoner aberration,
Prophecy – Pathway of the Fallen, defeat Wraithliege aberration,
Sleeper – Derelict Lighthouse, kill Thunderpiercer and Gorecarver aberrations,
Tainted Blade – Ward 13, Dwell.
Craftable Mods
Creeping Mist – defeat Sunken Witch Boss,
Knight Guard – Walk of Remembrance, wear Red Crown in Medallion room,
Ring of Spears – Glistering Cloister, you will get it from Bruin, Blade of the King Boss.
Amulets
Birthright of the Lost – Losomn World Drop,
Brewmaster's Cork – Losomn World Drop,
Cost of Betrayal – Chamber of Faithless, shoot council members,
Death-Soaked Idol – Complete Etherial Manor Event,
Gift of Euphoria – Defeat Wraithliege and use Memoriam Medallion Key,
Gift of Melancholy – Defeat Wraithliege and use Memoriam Medallion Key,
Gift of the Unbound – Talk to the One True King and Nimue, Kill OTK and bring the item to Nimue,
Index of the Scribe – Return Leywise his Tome,
Participation Medal: Die multiple times to any world boss on Apocalypse difficulty level,
Whispering Marble: Losomn World Drop.
Rings
Atonement Fold – Leywise Merchant
Band of the Fanatic – Forlorn Coast, wear full Zealot's armour set, listen to preacher's full speech and talk to him after it,
Bitter Memento – Offer Memorial Medallion to Nightweaver's Web,
Bridge Warden's Crest – talk to Bridge NPC,
Burden of Departed – Kill One True King using Burden of the Divine,
Burden of the Sciolist – Give Leywise the Scribe the Medallion the first time he asks,
Crimson Dreamstone – Suicide in Etherial Manor Event,
Digested Hog Lure – Drowned Wen, kill the pigs from the statue,
Dried Clay Ring – Losomm World Drop,
Elevated Ring – Forlorn Coast, once at the castle, go down the elevator,
Jewel of the Beholden – Don't talk to Nimue but kill One True King, go back to Nimue,
Lighthouse Keeper's Ring – Derelict Lighthouse, go to the top floor door,
Offering Stone – Losomn world drop,
Painless Obsidian – Losomn world drop,
Red Ring of Death – Losomn world or Gilded Chambers drop,
Ring of Infinite Damage – Offer Leywise the Medallion the second time he asks,
Ring of the Castaway – Complete Body Pit Event in Losomn Sewer Dungeons
Ring of the Vain – Losomn world drop,
Shadow of Misery – Losomn world drop,
Shaed Stone – Complete Other Side event,
White Glass Bead – Roll Great Hall in One True King Losomn, take part in the feast and bring some food to Leywise, insist on giving it to him,
Wood Ring – Losomn world drop.
N'Erud and Yaeshe Drops
A'taerri Booster – N'Erud world drop,
Power Complex Ring: N'Erud world drop,
Sinister Totem: Yaesha world drop,
Soul Shard: Yaesha world drop.
More information about Remnant 2 can be found below.