News
video games
04 June 2023, 23:55
Star Wars Jedi: Survivor Proves That Soulslikes Need Difficulty Levels, Experts Say
It's been more than a month since the release of Star Wars Jedi: Survivor. In connection with this, Electronic Arts has released interesting stats from the game. Of particular interest are the difficulty levels preferred by players.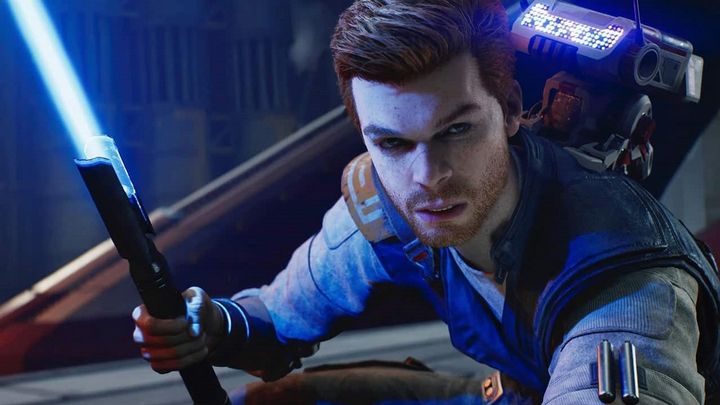 Recently published stats from Electronic Arts' Star Wars Jedi: Survivor have rekindled the debate among the community about whether easy difficulty levels are ruining the game.. And while the answer to this question depends on individual player preferences, those who insist on stress-free experience have received a serious argument in their favor.
For it turns out that as many as 14.5% of those who completed Jedi: Survivor, used the lowest difficulty level, geared toward casual exploration of the story. In the minority turned out to be a group of people who love challenging skirmishes. The Jedi Grand Master difficulty was used by only 4% of players. By contrast, 52% of people stayed with the default mode.
The overwhelming advantage in favor of easy gameplay was used, among others, by Steven Spohn, senior director at the charity organization Able Gamers (via GamesRadar), dedicated to making games more accessible. This expert published a post on Twitter, in which he pointed out that "gamers like difficulty settings and don't actually spoil video games by doing so."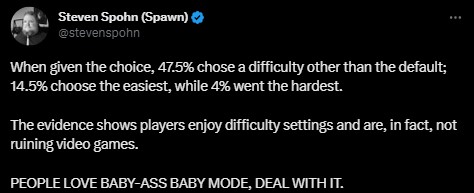 Source: Twitter, @stevenspohn.
In addition to Spohn, another accessibility expert, Steve Saylor, spoke out on the issue, asking on Twitter: "who is in the minority now? Who thinks easy mode spoils video games?".

Source: Twitter, @stevesaylor.
Where is this discussion leading? To soulslike games, of course, in which one doesn't usually find a choice of difficulty levels.. Admittedly, these types of game have a huge fan base, but certainly quite a number of players is held back for fear of extremely challenging gameplay. So there is a likelihood that a slightly easier game could convince many more people.
Developers such as FromSoftware could therefore reconsider the topic - if only for purely financial reasons - although they would certainly alienate plenty of gamers if they stripped their creations of their "hardcore" nature.
Coming back to Star Wars Jedi: Survivor itself, however, the devs also revealed other interesting stats from their game. From the data released by the company, we learned that the most frequently chosen combat stance in the game is the basic one - 31%. On the other hand, in second place - with a score of 29% - was the use of dual lightsabers.
In turn, the most beloved character in the game turned out to be Turgle. As an interesting note, it is worth mentioning that 489 players died at the hands of funny boss Rick, the door technician. A much better result can be boasted by Rancor, who sent Cal to the boards more than 9 million times.