News
video games
10 September 2023, 21:32
Starfield vs Cyberpunk 2077 Comparison Turns Into Critique; CD Projekt Defends Bethesda
A video comparing certain gameplay elements from Cyberpunk 2077 and Starfield sparked a heated discussion online. The developers from CD Projekt RED joined the debate and defended Bethesda.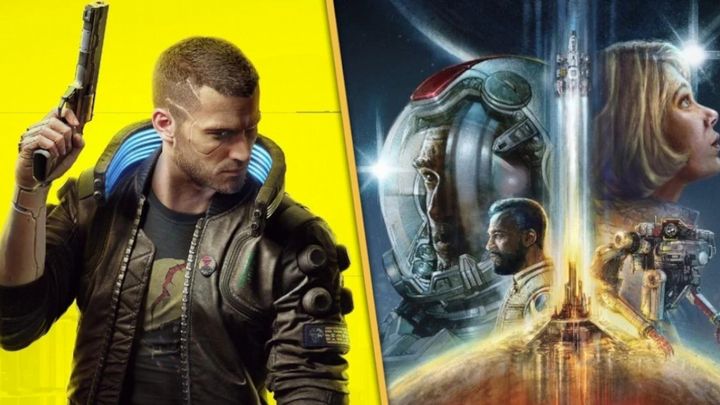 Source: CD Projekt RED/Bethesda Softworks.
i
Cyberpunk 2077 and Starfield are undoubtedly some of the most hyped up games of recent years. Not surprisingly, then, these titles - after the recent release of Bethesda's game - are eagerly compared by the gamers.
Recently, a short video (available below) has gained popularity on the web, which juxtaposes Cyberpunk 2077 and Starfield. The video dealt with the reactions of NPCs to the threat of firearms, as well as the visual effects and physics in both titles.
You do not need to be an expert to notice that Cyberpunk 2077 came out victorious from the clash, which in the presented elements looked much better than Starfield.
The problem is that this video is in no way objective, because it compares Cyberpunk's current state to a game which was released barely a few days ago, and the fact was highlighted by a significant number of commenters, criticizing the video.
"A bizarre comparison. I am almost certain that Cyberpunk was treated in exactly the same way at launch."
Now do tgus [a comparison - editor's note] with Cyberpunk at the time of its release."
"Cyberpunk is one of my favorite games, but I think that comparing a just-released item with one that the developers have been polishing for years is very strange, to say the least. I think we all remember what a weak release Cyberpunk was due to the game's performance on consoles [PS4 and XOne - ed. note] and it took years for the developers to make the game shine."
Among the commentators there was also no shortage of voices criticizing the latest work of Todd Howard's team. Moreover, some defended the sense of such a comparison, believing that since it's Bethesda behind Starfield, they do not expect significant improvements in this regard.
At one point, the discussion reached such a large enough scale that two Cyberpunk 2077 developers joined in, who defended the devs of Starfield.
"False criticism".
Patrick Mills, creator of Cyberpunk 2077's lore, criticized the material in question on Twitter/X, noting that similar videos appeared en droves at the debut of CD Projekt's latest work. Here it is worth recalling, for example video comparing Cyberpunk and Grand Theft Auto V, in which the former was shown in a bad light.
"This false criticism is actively harmful to the way audiences interact with the medium, and I hate it, but it's very amusing to see how many hundreds of such materials have been created to ridicule CP2077."
In contrast CD Project's level designer, Miles Tost, in response to Mills' comments honestly admitted that most of the elements used in the comparison were added to CP2077 or improved after the game's release.
The sensibility of such comparisons could be debated for hours, but personally I share Mills' opinion. What do you guys think? Let us know in the comments below this post.