News
video games
17 November 2023, 03:58
Warhammer: Age of Sigmar RTS Realms of Ruin Launches
Today marks the release of Warhammer Age of Sigmar: Realms of Ruin, a real-time strategy by Frontier.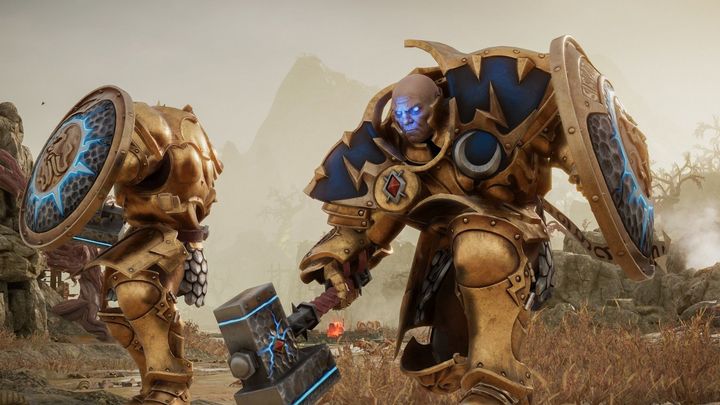 In a few hours, we will witness the debut ofWarhammer Age of Sigmar: Realms of Ruin, a battle RTS set in one of the most popular fantasy universes. The game was developed by Frontier Developments, known for Planet Zoo, RollerCoaster Tycoon 3 or Elite: Dangerous.
In the tabletop battle game, the advent of the Age of Sigmar proved quite controversial due to unpopular changes in mechanics and world (fans made fun of, among other things, the fantasy units clearly modeled on Space Marines). So we are curious to see the reception of this version of the Warhammer universe among PC and console gamers.
The game will hit today on PC, Xbox Series X, Xbox Series S and PlayStation 5.
The PC release will be available for purchase on Steam and Epic Games Store.
The price of the standard edition will be $59.99, now available 10% off on PC
At the same time the game will be unlocked on PlayStation Store andXbox Series X/S.
In addition to the standard edition, two special editions are also available. The Deluxe Edition offers a pack of additional skins. The Ultimate Edition, on the other hand, throws in a pass for the upcoming two DLCs with new characters. Also the special editions can be purchased at a 10% discount on Steam before release.
On PC, the game will use the Denuvo anti-piracy system.
First reviews
The first reviews have already appeared online. On OpenCritic the game has an average rating of 70%. Below we quote the ratings given.
TheSixthAxis - 8/10
NMW - 4/5
Gamestar - 79/10
God is a Geek - 7.5/10
TechRadar - 3/5
PCGamer - 55/100
Bigest critics complain about the lack of a classic single player mode (there is only a randomly generated conquest campaign consisting of standalone skirmishes), underdeveloped gameplay balance, lack of fresh ideas and a surprisingly weak atmosphere. Other editors are more gracious, emphasizing the game's enjoyable combat, large selection of units and convenient-to-use tools that enable us to create our own maps. As you can see, the opinions are divided, and we'll have to wait for more reviews before we can speak of any consensus.
Finally, it is worth quoting the system requirements of the PC version of the game.
Warhammer Age of Sigmar: Realms of Ruin - minimum PC requirements
The following configurations are expected to provide more than 30 frames per second in any situation when playing at 1920x1080 resolution on low settings.
Processor: Intel i5-6600 / AMD Ryzen 5 1400
Graphics card: Nvidia GeForce GTX 1060 6GB VRAM / AMD Radeon RX 5600XT 6GB VRAM.
DirectX version: 12
RAM: 16GB
Disk space: 27 GB
Operating System: Windows 10/11 64-bit
Warhammer Age of Sigmar: Realms of Ruin - recommended PC requirements
The following configurations are expected to provide more than 60 frames per second in most situations when playing at 1920x1080 resolution on high settings.
Processor: Intel i7-8700 / AMD Ryzen 5 2600X
Graphics card: Nvidia GeForce RTX 2070 Super 8GB VRAM / AMD Radeon RX 6700 XT 12GB VRAM.
DirectX version: 12
RAM: 16GB
Disk space: 27 GB
Operating System: Windows 10/11 64-bit