Command & Conquer (1995) - Huge C&C1 Mappacks Treasure - Game mod - Download
The file Huge C&C1 Mappacks Treasure is a modification for Command & Conquer (1995), a(n) strategy game. Download for free.
file typeGame mod
file size77.4 MB
downloads640
(last 7 days)3
last updateFriday, December 15, 2017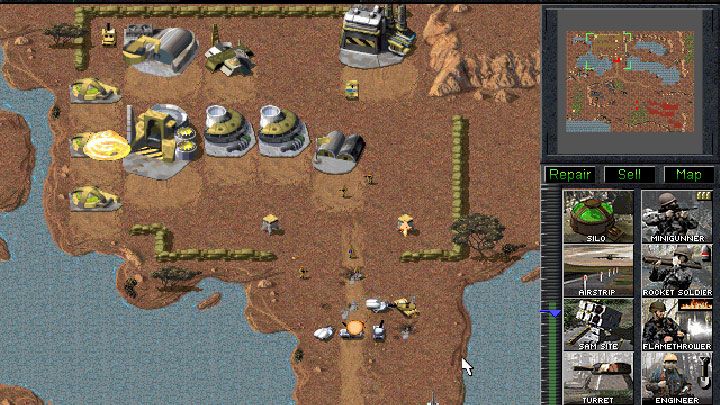 Huge C&C1 Mappacks Treasure is a mod for Command & Conquer, creatated by CnC Community and unearthed by 23-down.
Description (in 23-down's own words):
Hey guys I've recently checked through some old Cd's of mine and stumpled across a huge map Archive consisting of C&C1 singleplayer maps & mods. Go and check it out.
Hey guys I've recently checked through some old Cd's of mine and stumbled across a huge map Archive consisting of C&C1 singleplayer maps & mods.
This mappack is consisting of like over 200 singleplayer missions and like 20 or 30 SP Campaigns.
In order to play those maps you need Command & Conquer1 which you can get for free in the present days. (It's freeware.)
For many maps however you also need the C&C1 Expansion pack Covert ops because many missions are only accessible via the "New Missions" menu. But even if you don't have the Expansion there are still 100 of maps which also work with the normal c&c1. The stuff I've played many years ago is already in different folders stored.
You do have covert ops but are unable to install it? No problem open the CD folder and go into the install folder.. Copy all files with the ending .mix in your C&C95 mainfolder or your Freeware C&C folder. Done. Now you have the new missions installed that came with Covert Operations and can also play the other missions that also require Covert Ops.
Some missions were in german but that shouldn't be a problem since the target in C&C1 is always the same destroy the enemy base or capture or destroy a specific object. Some of the maps were really in high quality I remember a mission in which you had to support an Allied GDI Ai commander against 2 other NOD bases.. You never had AI support in C&C1. So that's a unique thing.
Some missions are also in campaign format for original C&C1 that means if you place them in your C&C folder they will replace the original campaigns. In order to start those mappacks you just start a new Campaign as GDI or NOD.
I have the original C&C95 + the Addon. I'm not sure if the file structure is the same in the Freeware version but feel free to give it a try none the less.
Many missions came just with Savegames. Those saves need to be inserted in your C&C mainfolder and then load the specific game.
But be aware that you must have the right game version otherwise you will get a "incompatible savegame" error. If I remember correct you need version 1.0 or 1.1 not sure so make sure to check the readme files most maps had a readme.
Also included within this pack is the C&C1 XP installer. That's for people which still own the original version by Westwood but having problems to install c&c1 on XP\Vista Computers.
There are also savegames for both official campaigns included. Have fun.
Last notes: The pack consists of maps & mods which you can't find anymore else in the internet because the fanpages hosting the stuff vanished many years ago. So those files are of gold value.
I didn't created just 1 of the missions so I'm taking no credits here. I'm just providing them for all the remaining fans of the original Grand Mother C&C franchise game.
EDIT: Important News
Alright people after re playing all the maps in my pack the last days I've found something very cool:
There you can get C&C95 in version 1.6. It is an inofficial patched up game. It has many bug fixes you can play now in 1024x768 resolution and it features new official Westwood missions that were only available on the N64 & PSX it also add some new videos from those old platforms which Pc players never saw.<br>It features new official Westwood music as well. I 've tested this pack with many of my missions of my pack and they are just working fine. So if you never had Covert Operations then download this game and you will have it right away. You can now also play against computer players & on snow maps like in Red Alert1.
I strongly recommend to download the full version 1.6 and install is in a new C&C folder.<br>Languages supported: German & English, French, Espanol. For the poor people which have only a censored German version feel free to download the uncut video addon (english vids) for this heavily improved game.
Many missions were only campaign Replacement missions. In order to make em Covert ops maps selectable via the menu read this:
It's an easy task of 1 minute to get x1 new mission into covert ops. So 60 missions inserted to Covert Ops in 1 hour.
Greetings 23-down
Last update: Friday, December 15, 2017
Genre: Strategy
File size: 77.4 MB
Files for Command & Conquer (1995)