Command & Conquer (1995) - Cameo v.0.27 - Full game - Download
Download for free and play full version of Command & Conquer (1995) , a(n) strategy game, Cameo v.0.27 , for PCs and laptops with Windows systems. Free and legal download. Enjoy!
file typeFull version
file size333.6 MB
downloads869
(last 7 days)18
last updateThursday, January 13, 2022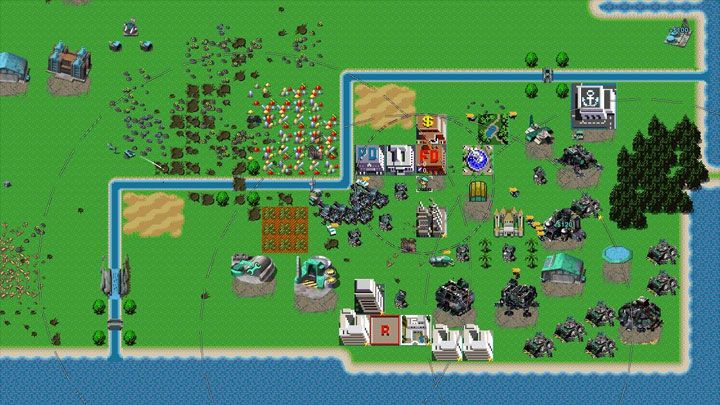 Cameo is a mod for OpenRA, created by Zeruel87.
Description (in author's own words):
The goal is to add as much content and fun as possible.
While this mod is based on "cnc" it does not change anything from the existing content at all but adds a lot of stuff like a huge addon.
Here are the details what awaits you as of "Cameo v1.0":
10 (+1) Playable Factions:
GDI & Nod- from the original "cnc" mod, untouched
Allied & Soviet - imported from "ra", small changes have been done to Powerplants & Refineries to balance these faction more, because "ra" stuff costs less and does more. Also Minigunner and Rocket Soldiers are used from "cnc" because "ra" Soldiers are stronger.
Alpha- AlphaTeam from Warzone2100, units are drawn by hand and buildings have been screenshot and added to the game. This faction has a strong defence with Repairable walls and many defensive turrets.
Scavengers- from Warzone2100. (all Credit goes to: Elpollo315)
Terran, Protoss & Zerg- from StarCraft BroodWar, altough some changes have been done to ensure an easy cnc-like gamestyle.
SimCity- from the SNES port, a support oriented faction, able to buff and upgrade allied units as well as allied power providing buildings, in addition the faction gains more money than others to assist allied players with money.
Custom- you choose your building options for each queue from one of the existing 10 factions.
(for practical reasons this faction does not work with bots)
10 Choosable AI's:
Cabal, Watson & HAL 9001- from the original "cnc" mod, untouched
EasyAI- Builds all Buildings once except Refineries, easy allround AI.
MediumAI- Builds more Refineries and Vehicle Construction buildings than EasyAI.
HardAI- Build more of each vital building and even more Refineries and Harvesters, strong allround AI.
InfantryRush– Focus on Infantry Production.
VehicleSteamroll- Focus on Vehicle Production.
AirForce- Focus on Aircraft Production.
XXLrandom– Builds every Structure twice and even more which produce Units, easily the strongest AI.
5 AI only "Challenge" factions:
AI's in OpenRa work by telling them what to build and to what maximum number.
these factions have only one main building and their respective buildings to build units.
different AI mainly affect the army size that is built before attacking, these are:
- 8 - HAL 9001
- 15 - Cabal, Watson
- 20 - EasyAI
- 25 - MediumAI
- 30 - HardAI
- 35 - AirForce
- 40 - InfantryRush
- 50 - VehicleSteamroll
- 90 - XXLrandom
X_Infantry- All Infantry Units from all available factions. no Vehicles and Aircrafts at all!
X_Vehicles- All Vehicles from all available factions. no Infantry and Aircrafts at all!
X_Aircrafts- All Aircrafts from all available factions. no Infantry and Vehicles at all!
X_All- All Infantry, Vehicles and Aircrafts from all available factions.
X_Monsters- Zombies, Viceroids, Ants & Dionosaurs attack in huge swarms.
Other things included:
Game Options:
- Kill Bounties - originally only available in RA, gain money by killing enemy Units.
- Heroes - gain access to a new building "portal of heroes" and choose one of 7 different well known game Cameos
20 Custom made Maps that are also playable in vanilla "CnC".
9 Custom made Maps with mod only content (all Credit goes to: Nadertader2004)
Map Editor - Additional Tilesets from RA, such as Ores, Gems and Water Cliffs.
66 Custom made Tiles for all 5 Map types, consistent of Street, Stone, Gras & Pond Tiles.
Scripted AI behavior for SimCity Faction that allows the AI to assist other players.
This is a standalone relesase. Just extract and launch. You don't even need OpenRA, because it's already included.
Last update: Thursday, January 13, 2022
Genre: Strategy
File size: 333.6 MB
Files for Command & Conquer (1995)