Command & Conquer (1995) - Tiberian Dawn Apolyton v.158 - Game mod - Download
The file Tiberian Dawn Apolyton v.158 is a modification for Command & Conquer (1995), a(n) strategy game. Download for free.
file typeGame mod
file size34.5 MB
downloads1260
(last 7 days)5
last updateWednesday, September 18, 2019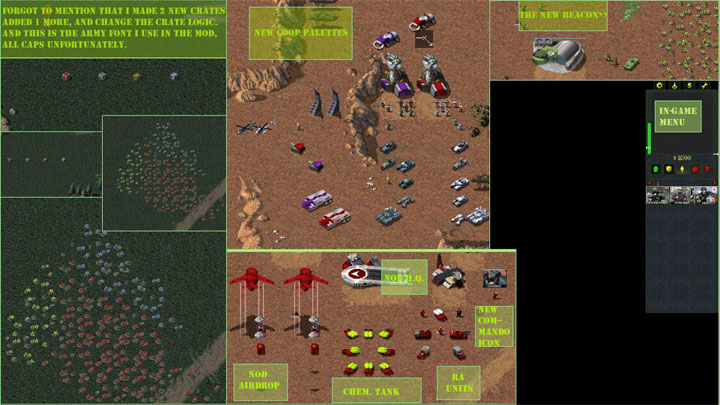 Tiberian Dawn Apolyton is a mod for OpenRA, creted by Quantum Zeno Effect (we recommend to also visit the group's Discord).
Description (in authors' own words):
New on this mod (remember it's based on TD)
=============================================
• super weapon timers.
• "mini" super weapon timers (airstrike ect) can be seen only by allies.
• new red tiberium
• new notification sounds (radio static shhhssszzz hhhsss ect)
• New coop missions with special color palettes! and a new unit who can capture allied buildings and units for times of need(coop only,sorry trolls)
• new level up sound (taken from fallout 1&2)
• new level up icon animation
• weapon impact flashes
• spy logic added to the game
• new nod support power (vehicle airdrop)
• new rifleman that uses grenades against large groups of infantry (i received the condition code from some one, I will add his name if he wants( I know I want)
• new awesome commando icon
• new chemical tank for nod
• new AI target logic (it will hit your super weapons with its super weapons)
• new communication center for nod(recreation of the beta)
• new military fonts
FROM RA:
• radar jammer for GDI
• heavy tank for nod
• medic for GDI
• mechanic for nod
• spy for nod
• supply truck for all
• pillbox for nod
• demo truck for nod
CHANGES:
• commando available for both sides
• Apache now uses missiles for vehicles and bullets for infantry, ammo can now replenished in helipad again.
• all builded aircrafts will arrive from out side the map instead of just popping from the helipad like a magic rabbit.
• capturing a super weapon will count as an extra super weapon, but you can only build 1, so no more double temple of nod and advanced com centers. just go and cap some.
• super weapon buildings can be seen by the enemy when the placed in the map(like red alert 2)
• nuke timer is now 10 min, and ion cannon timer is now 5
• nuke do more damage with more range(if you get hit by it, kiss your ass good bye)
• ion cannon do more damage and have a bit more range of effect.
• walls have more hit points.
• defenses can be build further away.
• menus are now changed to look like the original game (I am particularly proud for the loading bar)
• infantry type units will leave a corpse for a longer time after they crashed(dune 2 stile,let it rot)
• single player nod palette is now recolored to be "more dark red"
• beacon is now changed to a player colored smoke (that is bounce up and down a little ,sorry for that, I dont know yet how to fix it,but dont worry its not that bad)
• only nod can build rocket infantry
• construction yard build zone is now obsolete, you can expand as far as you like original style (well almost, walls and defenses dont count)
• build order is re arranged (dont remember details)
• buildings\units that haven't meet their Prerequisites will not appear in the build panel (no more clicking the unavailable)
• Advanced Guard Tower cost is now 1500
• APC uses its old machine gun
This mod offers an installer.
Last update: Wednesday, September 18, 2019
Genre: Strategy
File size: 34.5 MB
Files for Command & Conquer (1995)