S.T.A.L.K.E.R.: Call of Pripyat - STALKER - A.R.E.A. (free game) v.1.1.6.4.7 - Full game - Download
Download for free and play full version of S.T.A.L.K.E.R.: Call of Pripyat , a(n) action game, STALKER - A.R.E.A. (free game) v.1.1.6.4.7 , for PCs and laptops with Windows systems. Free and legal download. Enjoy!
file typeFull version
file size11031.3 MB
downloads1153
(last 7 days)71
last updateThursday, November 3, 2022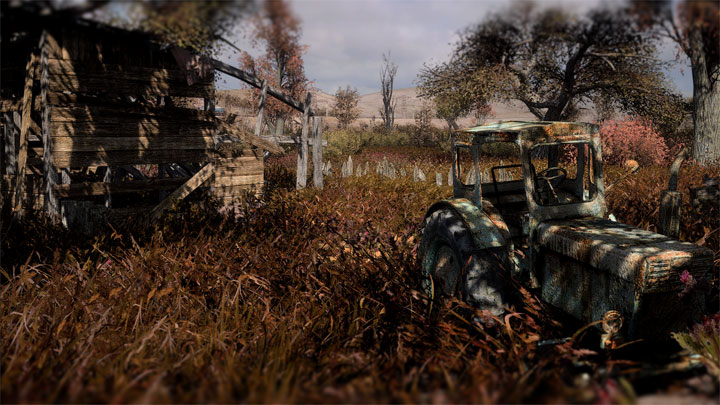 S.T.A.L.K.E.R. - A.R.E.A. is a standalone free game by A.R.E.A. Team.
Description (in author's own words):
A.R.E.A. was designed for careful, hasteless and deliberate gameplay, with many aspects to be taken into account during preparation for each trip into the Zone. If you haven't played any hardcore games or mods before, you most likely will face difficulties that you are not used to. If this is the case and you prefer more casual gameplay, please refrain from playing this game. This is not an usual stalker modification, it require some patience and skills. If you're sure you want to give it a try, then be ready to test your skills, stalker.
Atmospheric Realistic Expanding Addon (A.R.E.A.) is a standalone project based on Call of Chernobyl. The main goal of the project is to create a more realistic Exclusion Zone taking into account the fact that it's a game, where each trip will be a unique and rough experience.
Project use a custom fork of X-Ray Engine, which provides good stability and performance even on old PC's. A huge number of own ideas and features were developed, which totally changed the gameplay and reflect the author's vision of the Zone. This is a freeplay game, but in general it adheres to the lore of the S.T.A.L.K.E.R. trilogy. In this world, lovers of easy gain and speedrun will feel uncomfortable. The addon was released, but it's still updating and enhancing.
MAIN FEATURES:
A.R.E.A. xRay Engine - custom engine with a lot of improvments and optimisation.
New disguise system.
Magazine system.
Actor health system.
New damage clasification system.
Complete AI overhaul.
Reworked save system.
3D sights and shells.
Holographic sights.
Full actor body in 1st camera, reworked movement and physical shell support, NPC bodies collision.
Head rotation in 1st and 2nd camera.
Reworked cameras and fully playable 3rd person view.
New character animations and posibilities.
New transitions system.
New breath hold feature.
New icons, redesingned UI and HUD. Added animated buttons in the menu, animated loadscreen and cursor, added buttons sound reaction.
New inventory. Added inventory filters, new slots, scrolling tweaks, right side drop item section, character health window. New concept of weapon slots.
New mutant hunting system.
Inventory volume system.
Interactive crafting system. Split items and combine items feature.
Food spoiling feature.
New detectors zoom and switch position feature. New dosimeter with posibility to mute sound.
Skills and perks system with a tab in the PDA.
New quests and dialogues. Reworked tasks system and conditions. NPC say what they want before you take task.
New item irradiation system.
New item ordering system. New economy and trading mechanics.
Item dampness feature, depending on weather conditions and where is item.
New outfits and weapons dissasembling and repair systems.
New functions for unused items and devices, as well as expanding the functionality of old ones.
New power supply system for electrical devices, like: flashlight, smartphones, detectors, NVG, sights, exoskeleton and protoexoskeleton.
New enhanced HUD animations system. Added animations for different actor actions like: mutant skinning, item pickup, mask wipe, items usage, enable torch and NVG, open/close doors, looting bodies, backpack check, weapon interactions and others.
New HUD effects, HUD shaking and mask wetting. Added over 14 new HUD mask overlays.
Weapon overheating system and enhanced shooting effects.
New character creation menu.
Reworked flashlight with posibility to switch modes, with camera inertion, and new textures.
New artifacts and old ones from ShoC.
New mutants: added mice, leshyi, Stronglav, bear and other mutants with proper parts and features.
Over 200 smartcovers on each locations, restored and optimised theyr work.
More than 300 new visuals for stalkers, as well as about 40 new outfits for these visuals.
New summer Zone setting. Complete rework of vegetation, gamma, textures and terrains.
Sound:
Added EFX and HRTF.
Added Dopler Effect.
Added environmental sound zones for all locations.
Reworked step manager. Any character or npc movement now has a sound feedback.
Fully reworked sound component of the weaponry using layers system. All sounds were replaced by new one and edited to fit current weapons.
New natural ambient system. Standard day/night music schedule replaced by dynamic ambient patterns what play randomly in a specific area and create a breathtaking atmosphere.
Complete rework of all sound files. Audio were configured to create correct sound smoothness depending on distance, weared outfit or helmet, voice expresion, indoor or outside etc.
Added holster and draw sounds for throwable items, grenades and melee weapons.
Added helicopter explosion sound and car horn feature.
New dynamic music, consisting of tracks by Mick Gordon.
Graphics:
Volumetric lights for all light sources.
Volumetric fog.
FXAA
Improved lighting and tonemap.
Motion blur feature.
Reworked DOF.
Terrain parallax.
Grass collision.
Story:
Mysteries of the Zone. Find the Doctor and talk to him to start it.
DRX Questlines. Extended chain tasks.
New types of dynamical quests: package and collector. NPC talk what they want before accepting task.
New side quests for factions.
Work as a guide.
Optimisation:
Option to use of all CPU threads.
Disable textures loading in RAM, using GPU memory instead.
Extended sound caching.
Added CFORM, HOM and portals caching, significantly increases game loading speed.
Particles optimisation and reworked play time.
A lot of vanilla script and engine bugs were fixed.
Reworked file system organisation and scripts optimisation.
Optimized grass rendering.
CREDITS:
The addon is based on Call of Chernobyl 1.5 r7 assets.
A.R.E.A. Engine is a custom fork of Open X-Ray. Were used some changes from OpenXRay, xrOxygen, OGSR, SWM and Lex Addon.
Some features and content from Misery 2.1 and MLR 7.2.
Used weapons models from STCoP 3.3 by Gaz1k, STCoM WP 2.8.0.7 by Sasha Tulunzhi, AO 3.1 and TAZ 2.0.
Tent and hand generator models from Roadside Picnic 1.0.
Some artefacts models from Phobos: Artefact Reloaded Mod.
DRX Dynamic Anomaly 2.1. Functional and balance edits. Added new fields and types of anomalies and changed their spawn.
DRX Questlines 1.25. Functional, balance edits, adaptation.
New scopes textures from Morka 0.4, 0.5. Some grids were edited, some new was added.
New types and models of mutants. Changed their meshes, sounds, textures and settings.
Absolute Nature Redux 1.7d, some textures were used and edited.
Structures Redux 2.5d, some textures were used and edited.
A.R.E.A. key features:
Last update: Thursday, November 3, 2022
Genre: Action
File size: 11031.3 MB
see more
Popular files for S.T.A.L.K.E.R.: Call of Pripyat