Essays
26 March 2020, 15:05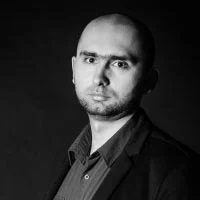 author: Martin Strzyzewski
Does Your Voice Matter? Discussing Choices in Video Games
Will you kill a man and take his food, or will you go your way? Game developers have fallen in love with moral choices, but if you play enough games, you may start to feel that they have little to do with choosing, and even less with morality.
3A – how to make a moral choice more difficult?
Of course, the developers realise that a simple decision won't astonish anyone; a decision to rob an old lady or not is hardly a memorable one. Of course we will leave her alone, just like all the other old ladies we meet every day on the tram. It's not shocking.
But even such a simple choice can easily be made more ambivalent if we raise the stakes.
What if the old lady has food and there's a hungry, sick companion waiting for us at home? What if there's a war going on and you can't buy anything? That's exactly the premise behind This War of Mine and it's table-top adaptation – you've already read about it here if you made the right choice.
Time constrained choices are also invariably more intense. If we only have, say, 15 seconds to make a meaningful choice, the pressure will make that choice even harder.
In Vampyr, drinking human blood gave significant bonuses to experience points, making the character stronger and the gameplay easier. Then, in The Witcher 3 we're trying to extract a valuable information from a corrupt priest. The game portrays the situation in a way that makes us think that the more Triss Merrigold suffers, the closer we are to getting that info. It's pretty powerful stuff, considering Triss has been there for Geralt since the first game, and was also one of the main characters of the books.
These three examples show that good choices affect the mechanics of the game, making it easier or more difficult, and are strongly grounded in the game's reality, making us wonder what we would do. We can call it the moral aspect.
Provided that the moral aspect does not exist or doesn't matter to us, each of these three decisions would become trivial. Of course I will steal the food if I lose without it; I will drink blood if it makes the game easier; and I will allow the tortures because it will help me complete the quest. That's why immersion is crucial for games with choices, but it's a different subject.
Want to read how the author of this piece tried to create difficult choices in games? Go to part 4A on Page 5.
Want to analyze more examples of moral choices from big and famous games? Go to part 4B on Page 5.