Essays
18 January 2021, 17:59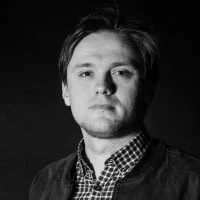 author: Matthias Pawlikowski
Left Behind by Technology - Players Who Can Only Hear in Mono
Imagine for a moment that one of your ears stopped working. Mine's done just that a long time ago, and I'll tell you how it changed my life.
I am sitting in an absolutely silent room, lined with insulating foam. No sound from the outside can reach me, nor can anyone outside hear me. There's a thick glass in front of me, behind which sits a doctor, smiling. He nods towards the headphones – I put them on and wait. My task is simple. I have to press the button when I hear a sound in the handset. During the whole session I press it 4 or 5 times. The smile finally disappears from the doctor's face. She looks anxiously at the monitor and then shakes her head. I already know – I will never regain my hearing. I leave the doctor and catch a bus to work. I enter the office and sit down at the desk. I don't speak to anyone throughout the day.
Only my right ear can hear. I am not able to determine the moment when I actually lost my hearing in the left ear, but I remember having problems with it as a kid.
In 1986, when I was born, doctors didn't seem to particularly care about newborns' hearing. Around 2002, I participated in a hearing screening program. By that time, I had already known that I can't hear like others. "Hearing impaired," that's what my mother said. Probably to avoid the simple but somehow terrifying word: "deaf."
Mark Cerny had something else in mind when presenting the SSD in PS5, but... If you read the entire text, you will find out that this image is not quite wrong!
I have no problem with the word. SSD (single-side-deaf or deafness – unilateral hearing loss) is a nice acronym. I sometimes joke that I had SSD long before it was fashionable. However, I prefer a different, more apt term – monohearing. You know, people hearing in mono.
It could have been worse. There are people who can't hear at all, or live with much more serious and life-threatening conditions. Most people don't even notice there's something wrong with my hearing. I have managed to survive most of my life so far without too much pondering over this subject. However, the problem returned in certain specific moments, either deconspiring me or limiting me, and sometimes not letting me enjoy something.
Which is it?
When we simply talk about people who have lost their hearing (partially or completely) or have innate physical characteristics that make it impossible or difficult to hear, we are talking about deafness. The term "Deaf" written from a capital letter means deaf people who identify themselves with the community of this kind of people. Yes, deaf people have their community, customs, language and culture.
Half-sound living
For someone who receives stereophonic sound correctly throughout their life, it isn't easy to imagine this. You may try to understand this by plugging one ear, but it will not give you full experience. Somebody would have to turn that ear off completely. When you press your hand against your ear, you hear the noise of blood circulating in your body. When I do the same, I can't hear a thing. As if nothing was circulating in me. Maybe it isn't?
.
So if you went out on the street with such hearing, you'd feel lost. Only then would you really discover that pedestrian crossings can be challenging and cars are your enemy. In my life, I have already walked under a car, a bicycle, a streetcar, a bus, a horse carriage, a quad, a tractor, and once, even under a camel. It taught me to be extra paranoid about crossing a street. With such an ailment, listening to music in headphones is pure survival genre. But I accept it, because music is like air to me.
Try to run the following video with headphones on – it doesn't fully reflect the problem, but allows you to feel the chaos of sounds and noises experienced by people with SSD during a big family dinner, or a visit to a restaurant.
If you wonder how my life is different from yours, let me give you some other examples. During my high school graduation my colleague tried to copy my answers. He whispered and whispered, but I couldn't get it, so I answered randomly: "C." Maybe it worked, maybe it didn't. That's what I do when I can't understand what somebody's saying. I can't count all the times I answered "yes," "no," or "right," when someone asked me about my favorite pokemon, for example.
Of course, any party with loud music is an ambush for me – I always tried to keep people on my right side. I ignored anyone to the left. For the same reason, my friends always stand on my right side during walks. Those who do not know or do not remember that I cannot hear, stand to the left. Sometimes I remind myself, and sometimes I let them talk to me for half an hour, paying no heed. Then I nod my head, and say "right," I generally use an advanced phatic function of speech, though during this half-hour of talk I have no idea what the conversation is about. You just sometimes get fed up and don't want to jump out and tell everyone over and over again that it's not so natural, all this talking and hearing. This has led to some really embarrassing situations in my life.
Music, as I have already mentioned, is important to me, but it is always lacking. You see, I have never experienced stereophonic sound – I understand the premise, I know how it's supposed to work, but can I imagine it? Something that is as natural for you as breathing, for me is an absolutely unattainable way to experience the world. Do you remember the moment when one of your headphones breaks down and you are angry because you can only hear the vocal and guitar of your favorite band in the headphone, with the bass line silent? Well, that's how I listen to music in headphones, most of the time. I hear either the bass, or guitar, or vocal, or trumpet – I never hear the whole thing.
Frogger is a cult arcade game about a frog that tries to cross the street. Sometimes I thought it's exactly how I move around the city.
Or at least that's how I listened, until finally Android introduced mono sound option – it was a great celebration for me and a reason for great joy, which nobody noticed. Who the hell cares about mono function on a smartphone?! I cared because from that moment on, I could hear the entire song: every sound, riff, and phrase.
You see, we like to think that technological progress helps us in our lives by enabling us to fully experience the world. In my case, technological progress was exactly what excluded me from the full experience of the world for many years. Not always such an obvious function as converting stereo sound into mono was not always available in different interfaces. I have particularly bad memories of the era of the first portable MP3 players. Windows 7, which is slowly entering agonal state, but was quite recently the most popular system, never offered this solution. It is available on Windows 10 (via Ease of Access) and I'm thrilled, though some customization would be useful: I'm not able to set up mono on headphones only (leaving stereo on speakers where stereo is not a problem for me, and I don't usually watch movies alone, but with someone who can distinguish between stereo and mono sound), and I'm not able to choose which individual app should work in mono and stereo. Oh, I can only turn it on and off.