Game preview
21 October 2016, 15:00
Elex hands-on – science-fantasy for fans of Gothic
After some time spent watching and then playing Elex, an RPG by the German studio Piranha Bytes, it's hard to believe it will be on par with Gothic. Will a well-developed world make up for technical shortcomings?
This article was written prior to the game's release.
This text was based on the PC version.
ELEX IN A NUTSHELL:
Open-world RPG;
Created by the German studio Piranha Bytes;
According to devs it's closer to Gothic than to Risen;
Set on a post-apocalyptic planet called Magalan;
Game world 1.5 times bigger than in Gothic 3;
The eponymous elex is a mysterious element with powerful properties;
Emphasis on the protagonist's story (who even has a name this time!).
When we interviewed Björn Pankratz from Piranha Bytes a year ago, he told us that there would be more Gothic than Risen in their upcoming RPG, and I was really pleased to hear that. During Warsaw Games Week I personally had a chance to talk with the developers, see a considerable portion of gameplay, and – most importantly – take Elex for a spin myself. Indeed, from the very beginning, despite the futuristic tech and the ruins of a highly developed civilization on the horizon, I was half-expecting to bump into Diego or Xardas at any moment. However, it's too early to fetch a nice bottle of champagne just yet – although every fan of Gothic will find something of interest quicker than you can say "Welcome to the Colony", we also need to bear in mind that Elex's heritage sadly includes all the characteristic shortcomings of the developer's games too.
I thought it was over a long time ago…
What catches our attention first are probably the outdated graphics; right now (pre-alpha version) Elex doesn't really utilize the full potential of the current generation of consoles: the animations are rather clunky, and some textures look pretty low-res. Sure, previous Piranha Bytes's games (save for Gothic 3, perhaps) were never really considered the industry's benchmarks in terms of graphics, but this game could be a lot prettier.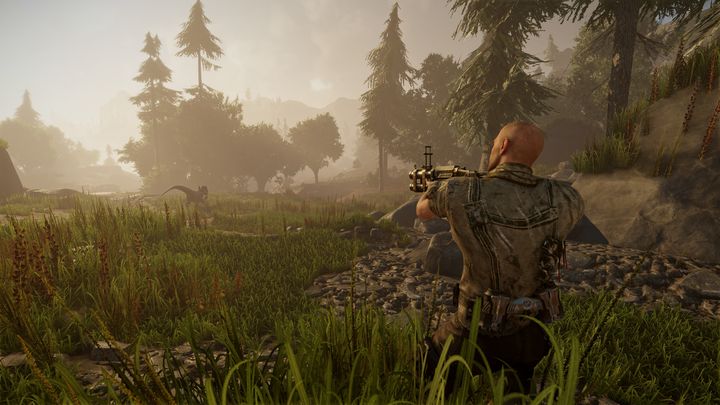 This time the protagonist has a name and clear motivation. First and foremost, Elex will be his story.
Fortunately, Elex makes up for the graphics with its setting. We've seen three big biomes – forest, mountains, and desert – and each of them seemed filled with interesting locations, monsters to slay and shoot, and secrets to discover. There's a lot to explore, and as Björn Pankratz himself stated, the world is 1.5 times bigger than that of Gothic 3. The players will travel either on foot or use a jetpack – the device is very intuitive, and makes the exploration a whole lot easier, although it usually doesn't have enough fuel to cover more than a rather short distance. It also comes in handy when our hero has to run for his life.
Another one of these damned beasts!
The jetpack can be used in combat too – nothing stops us from boosting our charge with it, or gaining an elevation advantage over enemies. Generally, close combat isn't very complex – there are three moves to chose from: strong attack, fast attack, and block. Every blow that reaches our opponent will slightly increase the special attack bar. It gets more interesting when firearms come into play; apart form a set of traditional guns, there's also a cannon, which creates a black hole of sorts, sucking in everything in its vicinity. Some magic skills based on the titular elex can also be developed.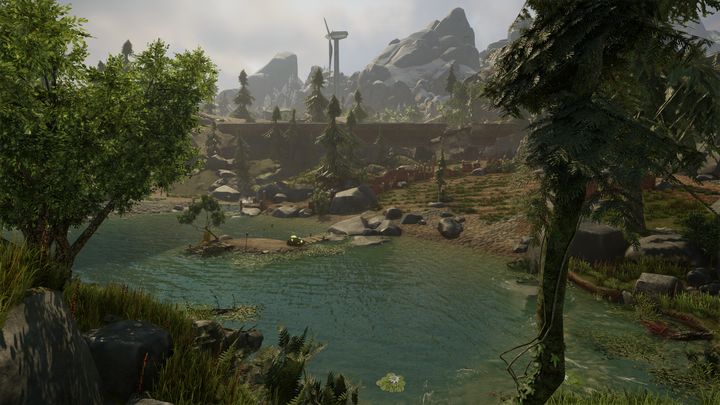 The proprietary engine doesn't yield the best graphics, but it allowed the devs to create a truly interesting world.
Magic, however, is anything but attainable at the beginning of the game. Before the devs gave me a mighty armor and a set of futuristic tools designed to swiftly exterminate hordes of enemies, I had a chance to briefly take control over a low-level character, and soon found out that Piranha Bytes doesn't go easy on us. It's going to be a rather difficult game for beginners – if you decide to venture into the world the second you step into the game, you'll soon be mangled by wild animals, vicious bandits, or powerful robots. You need a very solid character build in order to feel safe in every corner of the world.
What would be left of Piranha Bytes's game had it not been for its vibrant universe? In Elex, we could see that even without the protagonist in it, the game world would still carry on – farmers sow, bandits roam the wilderness looking for easy money, and people flee with horror if attacked by the aggressive fauna. This illusion of being a part of a real world has been there since the first Gothic, and it's really nice to see that nothing has changed in this respect.
Lots of people talking…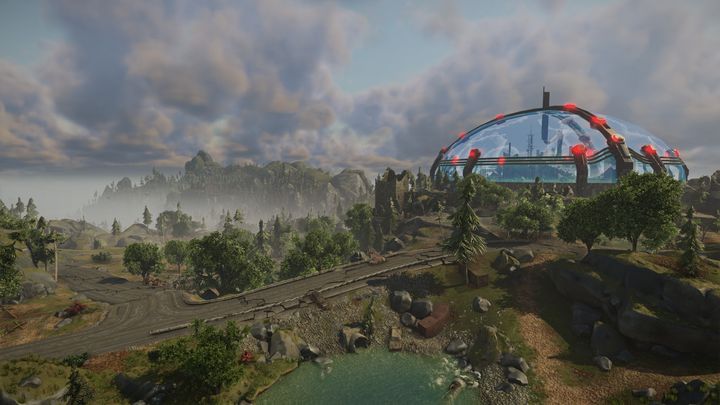 Big cities are relatively safe enclaves in a world where danger lurks at every corner.
Progressing our character is hard work, and it's almost identical to that of Gothic. In Elex, after finishing a couple of quests, players can join one of the three major factions – Outlaws, Berserkers, or Clerics – and, as you might assume, the choice will not only influence the way the story unfolds, but also alter the path of development of the main character. The game features a system of perks, and some of them will be only available for specific factions. The Clerics have access to the most modern technologies, but are strongly against any usage of elex, hence joining them will prevent the player from obtaining any magic skills. This mechanic is complemented by three ranks achievable in each of the factions, and a morality system, in which the player's conduct will determine the available dialogue choices and the relations with NPCs.
And the latter will be a vital part of the show, since the devs assured us that Elex will be about a personal story, focusing mainly on the protagonist, not his heroic deeds. Unfortunately, I haven't had a chance to verify this statement – I didn't play any main quests; even if I had, the build was in German, which would make the evaluation of the story rather difficult anyway. Still, the devs say that the players' conduct will not go by unnoticed in the game world – almost every NPC can be killed, and some of them may find the player's actions so disagreeable that they won't even talk to him. Even companions, should the player continuously vex them, will outpour their animosities, pack up, and double back. What's even more, after finishing the main storyline, the players will still be able to witness the consequences of their decisions, since the game will allow them to get back to the game world, complete any remaining side quests and develop the character further.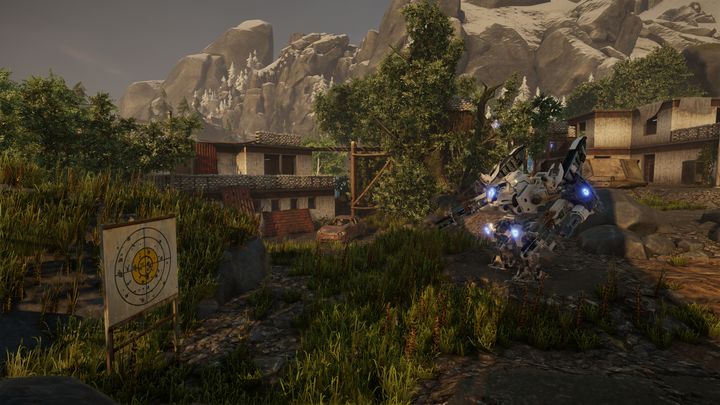 The robots can be a real challenge, even if you have top-notch equipment.
The others shouldn't know
Another element that brings Gothic to mind, are unfortunately the glitches, which aren't hard to find, too. The ragdoll is sometimes out of control, textures pop in, the "intelligence" part of the AI sometimes goes AWOL… Björn Pankratz said during the presentation that Elex will be polished and improved before its release in mid-2017, but there's no denying that Piranha Bytes's games, although always challenging and featuring great atmosphere, are also notorious for their technical shortcomings. Of course, I keep my fingers crossed, hoping that the game will ultimately not be released as "work in progress", but I do have my reservations.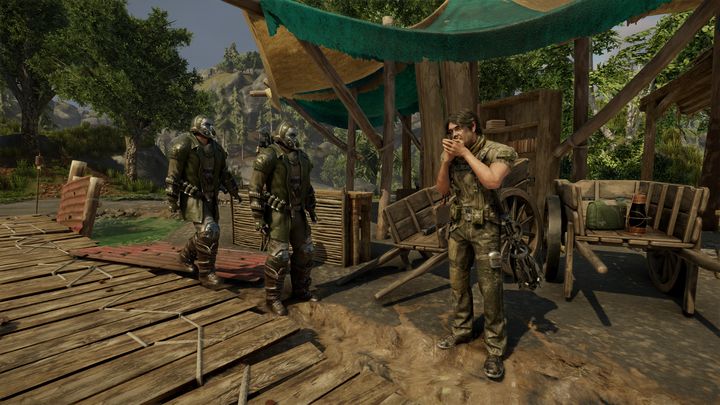 All the factions are in a state of permanent conflict. Sympathizing with one, will influence the relations with the other two.
In its current form Elex looks rather mediocre, and it probably won't be a breakthrough in the genre… but then again, we don't expect it to be. I hope that the world created by Piranha Bytes will make up for the game's shortcomings, which are worryingly numerous in the alpha build I've seen. However, we have to remember that the games by the German studio have always been more than simply a sum of all their parts. After the presentation, I was disappointed, but then again would you be impressed if someone threw you into the middle of the first Gothic with the best weapon and armor just to kill some monsters? Probably not. There are many things that the players are able to forgive the makers of Gothic should their game have a great mood and a complex, captivating game world. Luckily for us, the German team seems to have a particular knack for this sort of thing.
Jakub Mirowski | Gamepressure.com