Forza Horizon 4 Expansions & DLCs
Game Expansions and DLCs available for Forza Horizon 4 Video Game.
Game Expansions for Forza Horizon 4

Forza Horizon 4: LEGO Speed Champions
Racing 13 June 2019
The second add-on to the racing game called Forza Horizon 4, in which we get to the world made of LEGO bricks and we can sit behind the wheel of the "toy" versions of real cars. Forza Horizon 4: LEGO Speed Champions allows you to play both alone and in multiplayer mode.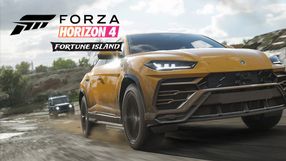 Forza Horizon 4: Fortune Island
Racing 13 December 2018
The first big add-on to Forza Horizon 4, which takes the players to an island north of the UK. New races and challenges await them there, as well as previously unseen atmospheric phenomena, such as thunderstorms and auroras.
DLCs for Forza Horizon 4
PCXONE
Barrett-Jackson Car Pack
DLC 09 April 2019
PCXONE
Best of Bond Car Pack
DLC 02 October 2018
PCXONE
Formula Drift Car Pack
DLC 02 October 2018
PCXONE
Forza Horizon 4 Treasure Map
DLC 02 October 2018