Age of Empires III Expansions & DLCs
Game Expansions and DLCs available for Age of Empires III Video Game.
Game Expansions for Age of Empires III

Age of Empires III: The Asian Dynasties
Strategy 23 October 2007
The second expansion to Age of Empires III, developed by Big Huge Games, the authors of the well-received Rise of Nations. This time, the players visit Far East, being given access to three new civilizations: India, China, and Japan. The single-player mode received a new campaign consisting of fifteen scenarios (five for each new nation). The new maps take place in the new geographical zone, while some of them were influenced by historic locations or events. The eastern civilizations can build a consulate, as well as wonders that enable them to enter a new era. Additionally, Age of Empires III: The Asian Dynasties also brings an updated multiplayer mode – the developers asked for the players' input, which resulted in, for example, new useful keyboard shortcuts.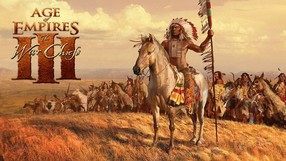 Age of Empires III: The WarChiefs
Strategy 17 October 2006
The first official expansion for Age of Empires III, developed by Ensemble Studios. The expansion introduces three new nations (Iroquois, Sioux, and Aztecs) described in the story campaign. The individual factions are different not only in terms of available buildings, but also by their strengths and weaknesses – the Iroquois have access to artillery and siege machines, the Sioux use horses for swift movement, while the Aztecs are known for their strong infantry. Additionally, the expansion includes the new updates introduces in Home Cities. Age of Empires III: The WarChiefs also includes new content for the multiplayer mode – aside from bonus maps, the developer added new units for the eight European nations present in the core game.