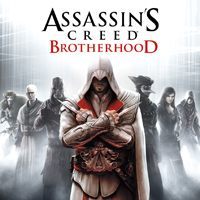 Game mode: single / multiplayer
Multiplayer mode: Internet, players: 1-8
Assassin's Creed: Brotherhood for PC, PS4 and etc. is the third installment in a best-selling game series, in which Ubisoft company takes us back in time, presenting historical events from a perspective of deadly assassins. Assassin's Creed: Brotherhood goes back to a 16th century ancestor of Desmond Miles, in order to show the continuation of the story started in the second part of the series.
Assassin's Creed: Brotherhood is a direct continuation of the adventures of Ezio Auditore da Firenze. The story is almost exclusively set in Rome – The Eternal City, infamous for intrigues, plots, and rivalries between prominent houses – here, also the being the headquarters for the Order of Templars.
In this Ubisoft Montreal production, the player takes control of not only Ezio, but also the Assassin Brotherhood, aiding him in his fight against the Templars. Controlling this organization means an array of duties. Starting with recruiting and training new Assassins, through calling for their aid in combat. Your people can also be sent on missions – this way you get extra funds, which you can spend on upgrades, new weapons and gear.
The player moves around the bustling city of Rome, subdued under the hand of the villainous house of the Borgias. In order to free the city districts from the tyrant's rule, you have to eliminate towers controlling particular areas. Gaining support of citizens unlocks new factions, and thus new missions. While doing missions you meet famous historical figures, like Leonardo da Vinci, Niccolo Machiavelli, or Catherina Sforza.
Brotherhood for PC, PS4 and etc. offers an arsenal of weapons, including an axe, a razor-sharp fan, a syringe with a needle, claws, and the switch blade – a Templar counterpart of the hidden blade. The game also features Leonardo da Vinci's machines, e.g. the parachute or an improved version of the flying machine. The protagonist is also armed with several new attacks – now Ezio attacks enemies mercilessly with deadly chain kills.
By far, one of the strongest points of the game are so-called collectibles and side quests. This time the developers really paid attention to this feature, offering a multitude of attractions. Apart from feathers, the series' hallmark, Ezio can find mysterious glyphs, entrances to the Lairs of Romulus, or missions given by various factions, such as the thieves guild or the courtesans. Engaging into this kind of activities unlocks not only new items, but also special missions, revealing additional information about the hero.
This game, for the first time in Assassin's Creed series, features a couple of multiplayer modes – Alliance and Wanted. Here players can choose from several playable characters (e.g. the monk, the smith, or the courtesan), each with their own set of weapons and deadly strikes. Multiplayer features special maps (e.g. Castel Gandolfo, Venetia, or Florentia) and offers different play modes. It is worth mentioning that in multiplayer you can support the Templars.
PEGI Rating
System requirements
Recommended:
Core 2 Duo 2.6 GHz
1.5 GB RAM
graphic card 512 MB (GeForce 8800 or better)
8 GB HDD
Windows XP/Vista/7