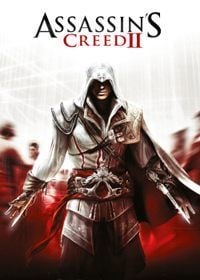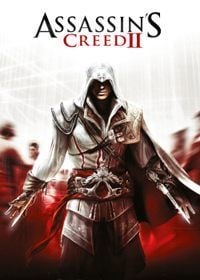 Assassin's Creed II
A sequel to Assassin's Creed, an action game released in 2007. Just as the original, also the second installment was developed by Ubisoft Montreal studio. Assassin's Creed II tells of the new adventures of Desmond Miles.
Action | TPP | science fiction | Stealth | sandbox | XVI century | historical
Assassin's Creed II
Release Date
Assassin's Creed II is a sequel to a successful TPP action game. It was again created by renowned Ubisoft Montreal Studio a Ubisoft Entertainment subsidiary.
The second part of the series takes you to the year 1476, i.e. the age of Renaissance. You can visit such cities as Florence, Venetia, and Rome, as well as their surrounding agricultural areas (e.g. Toscana). You play as Desmond, who uses a device called Animus to explore the history of his predecessor – Ezio Auditore da Firenze. The creators prepared an extensive main story as well as numerous side missions of several types. Interestingly, in the game you can meet famous historical figures, such as Lorenzo de Medici and Leonardo da Vinci.
In your missions, first of all, you have to sneak past guards, blend into crowd, and stealth kill pursued targets. This is not an easy job, due to increasingly stronger enemies. Some of them can even climb on rooftops as easily as the protagonist, others are much more vigilant and clever. Fortunately, if a duel does not go as planned, you may always pay a visit to a local medic, and heal your wounds.
The game introduces a couple of interesting innovations as compared with the previous installment. The first and foremost is swimming, which adds new exploration options. Of course the assassin can still climb on tallest buildings, which is actually a major element of gameplay. The variety of executions was expanded – you can attack enemies from rooftops, shoot them with a hidden pistol, or use their own weapons against them.
Besides, you can make use of several Leonardo da Vinci's designs, including the flying machine, as well as the brand new hidden blade (combining the aforementioned pistol and the poison blade). The in-game locations also hide a multitude of collectibles – 100 feathers and over 300 treasure chests. Finding these is rewarded with various extras, including Auditore's family cape or even armor of Altair, the previous game's protagonist.
Many a time the hero gets attention of local authorities. Fortunately, he can lower his wanted level by tearing posters off the walls, eliminating eye-witnesses, or bribing heralds. Traditional cut-scenes were replaced with spectacular quick time event sequences. The game sports high quality graphics and breathtaking locations.
The PC version of the game includes two extra episodes, originally released on consoles as DLCs.
The story of the add-on focuses on protecting the titular city of Forli. The player has to fight back an attack by Orsi brothers and prevent the Templars from further expansion. In that goal you are aided by your allies: Catherina Sforza and Niccolo Machiavelli. Moreover, in one of the special memories you can pilot Leonardo's flying machine.
The story focuses on the titular Bonfire of the Vanities. This was an actual incident that occurred in the late 15-century Venice. On 7 February 1497 supporters of the Dominican priest Girolamo Savonarola publically burned thousands of objects condemned as occasions of sin. Flames consumed books, works of art, mirrors, dresses, game cards, and other "objects of immorality". These events are a background for over 10 new missions in which you aid Niccolo Machiavelli.
Last updated on 09 February 2015
Game mode: single player
Media type: 1 DVD
User score: 8,7 / 10 based on 19202 votes.
Pre-release expectations: 8.7 / 10 based on 8442 votes.
PEGI rating Assassin's Creed II
Assassin's Creed II System requirements
Recommended:
Core 2 Duo 2.6 GHz
1.5 GB RAM
graphic card GeForce 8800 or better
8 GB HDD
Windows XP/Vista/7