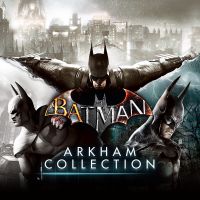 Batman Arkham Collection is a set of three cult Batman games released in 2009-2015: Batman: Arkham Asylum, Batman: Arkham City and Batman: Arkham Knight. The collection also includes all add-ons created for the mentioned productions. All games included in the Batman Arkham Collection were developed by Rocksteady Studios. Warner Bros. Entertainment is responsible for creating and publishing the set.
Plot
The action of all three games takes place in the dark city of Gotham, which always seems to be destroyed by various types of criminals. Each of the productions offers a separate plot. Stories usually emphasize a different villain known from the Dark Knight comics, although some characters, like the Joker, appear in several scenes and play an important role in each of them.
Mechanics
The gameplay is similar in all three productions. So we are dealing with action adventure games with a third person view (TPP), in which we explore the available area, performing tasks, sneaking around, fighting enemies and gradually discovering the plot prepared by the creators.
The world of the game is getting bigger and bigger in every part of the series - while in Arkham Asylum we only move around the title psychiatric hospital and its basement, in Arkham City we get a vast piece of the city to explore. The greatest freedom we get in the newest of the games included in the set - Arkham Knight allows you to visit all of Gotham (for the first time you can also ride a batmobile).
The fight puts emphasis on rhythm, counterattacks and the use of various gadgets characteristic for the Dark Knight (e.g. batarangs, which are available in different variants).
It is worth noting that in each of the games we will find a number of side activities - tasks, challenges and puzzles, which often offer a noticeably different idea for the game (for example, confrontation with the Riddler requires agility and thinking, while capturing some villains allows you to show off the skills of the detective - including sequences in which we reconstruct crime scenes.
Game modes
Games included in the Batman Arkham Collection can only be played alone. The productions focus on the feature campaign, but also offer additional options, such as a special challenge mode.
Technical aspects
Batman Arkham Collection has a decent, three-dimensional graphic design, which was created using the Unreal Engine engine (the subsequent parts are based on its more and more advanced versions). The models of the characters and the environment are very detailed and refer to the artistic style of comic books and films (including animated films) about Batman. Also noteworthy are spectacular animations and a lighting system that makes Gotham a very atmospheric place.
Similar games:
Age Rating
age requirements: 16+