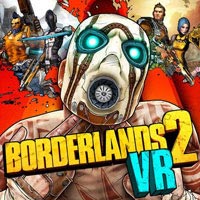 Borderlands 2 VR is a new version of the popular hybrid of FPS and RPG that appeared on PCs, PlayStation 3 and Xbox 360 (and then, two years later, on a portable PlayStation Vita console) in 2012. This time we are dealing with a conversion prepared for the goggles of the virtual reality of PlayStation VR. The creation and release of both the original title and the port was done by Gearbox Software.
Story
Borderlands 2 VR takes place on the planet Pandora, shortly after the end of a story known from the first part of the series. Handsome Jack, this time the main antagonist, bought out the biggest weapon manufacturer in the game world, Hyperion, and proclaimed himself the dictator of Pandora, after claiming the merits of the characters of the previous part. We play the role of an adventurer trying to reach the legendary Vault before Jack does it and uses the power hidden in it for evil purposes.
Mechanics
Borderlands 2 VR is a FPS with RPG elements, modelled on Diablo hack & slash. The creators prepared four different characters: Salvador, Maya, Zer0 and Axton - each of them has its own special skill (e.g. Zer0 creates a holographic lure and becomes invisible, while Maya can temporarily immobilize a selected enemy) and its own tree of development. With a selected hero we visit a variety of locations, completing quests and fighting the legions of enemies.
An extensive equipment system is of great importance for the game. Each of the objects we find (mainly weapons, but also gadgets, e.g. shield generators) has a random set of statistics and attributes that distinguish it from others. Binoculars can also differ in the way they shoot - it depends largely on their manufacturer (in the game we will find several different companies producing different equipment).
Borderlands 2 VR supports targeting and hitting through body movements. Production also enables the use of a first person view while driving. There are also some new skills in the game, such as time slowdown (called BAMF - Bad Ass Mega Fun) and teleportation (makes it easier to move around, but it is not obligatory to use it). The trees of the development of individual characters have also been refreshed.
Game modes
Unlike the original version of the game, Borderlands 2 VR has a single player mode only.
Technical issues
Borderlands 2 VR looks very similar to the original title. We are still dealing with the Unreal Engine and three-dimensional, comic environment made in cell shading technique. Of course, although there are no big technological differences to the original, PlayStation VR's virtual reality goggles allow you to experience Pandora in a completely new way.
Production can be controlled via Dualshock 4 or two PlayStation Move controllers - depending on the player's preferences.
Please let us know if you have any comments or suggestions regarding this description.
Similar games:
Age Rating
age requirements: 18+
System requirements
PC / Windows
Recommended: Intel Core i5-4590 3.3 GHz / AMD Ryzen 5 1500X 3.5 GHz, 8 GB RAM, graphic card 6 GB GeForce GTX 1060 / 8 GB Radeon RX 480 or better, 12 GB HDD, Windows 10 64-bit
Minimum: Intel Core i5-4590 3.3 GHz / AMD FX-8370 4.0 GHz, 8 GB RAM, graphic card 4 GB GeForce GTX 1050 Ti / Radeon RX 470 or better, 5 GB HDD, Windows 10 64-bit