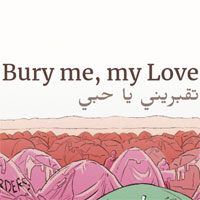 Bury Me, My Love
Majd and Nour are the main characters in Bury me, my Love - they are a married couple from one of the Syrian towns destroyed as a result of bombings. The player is required to make choices while reading and sending back text messages and images.
Adventure | modern conflicts | 2D | experimental/art | text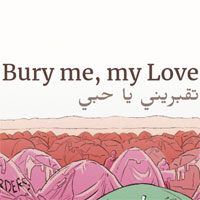 Bury me, my Love for AND and iOS is an interactive story about the war that has ravaged Syria (inspired by a true story of a girl called Dana, who set out on a journey from Syria to Germany in September, 2015). The game is presented in the form of text messages. It was developed by three companies: The Pixel Hunt, Figs, and ARTE France, and published by Playdlus Entertainment.
Plot
Majd and Nour are the main characters of the game. They are a married couple from one of the Syrian towns that were destroyed as a result of bombings. When Nour's sister falls victim to the fightings, the woman comes to a conclusion that she cannot live like that any longer and decides to set out on a journey to Europe. Unfortunately however, Majd cannot accompany her, as he has to take care about his grandparents – without him, they would not have a slightest chance for surviving. Nour leaves on her own then, having made as much preparation as it was possible. During the journey, she remains in touch with her husband, using a smartphone she has bought specifically for that.
Mechanics
Mechanics-wise, Bury me, my Love for AND and iOS is based mainly on reading text messages and replying to them with text or images – the experience resembles using a regular communication app, such as Messenger or WhatsApp. Obviously, the difference is that Nour is the person who receives messages from the player and sends back to them – she is a fictional character, the wife of the game's protagonist. Nour tells the player about subsequent stages of her journey and the difficulties she encounters. Communication with this in-game character takes place in real time, so when the woman sends the player a message saying she has to do something that can take a few hours, it is very probable that she will remain unavailable for such a duration.
Nour sometimes asks her husband for an advice as well, when she has trouble making a choice. Further course of her journey can be affected by the player's advice, and so can be the woman's fate. The choices one makes in the game are mainly related to a few aspects: time, money, and the way Nour decides to take. The woman has some equipment, a specified amount of money, as well as the additional statistics: morale and a meter depicting the status of her relationship with Majd.
Technical aspects
Bury me, my Love for AND and iOS offers very simple visuals. For the most part, the game resembles a usual communication app, Every once in a while, maps or drawings are attached to messages.
Similar games:
Age Rating
age requirements: 12+
System requirements
Minimum:
Intel Core 2 Duo
4 GB RAM
graphic card Intel HD or better
250 MB HDD
Windows 7