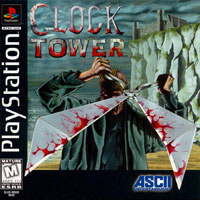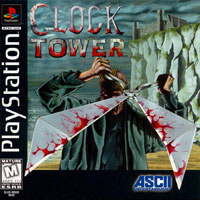 Clock Tower
PS1
Point & click adventure with horror elements. This is one of the first productions of this type released on PlayStation, using 3D graphics.
Clock Tower

Release Date PS1

13December1996
developer: Human Entertainment publisher: ASCii Corporation

game language: English
A sequel to the 1995 SNES survival horror. Using the mechanics of point & click titles, Human Entertainment's game is one of the first representatives of the genre to use 3D graphics.
Story
The game continues the story originally told in SNES vesion of Clock Tower. After the dramatic events at Barrows Castle, young Jennifer Simpson was adopted by psychologist Helen Maxwell. The woman tries to help her cope with the trauma and, by the way, get to know the mystery of the events in which the mysterious serial murderer Scissorman took part. One day they receive information about the murderer's return. Helen starts her own investigation and tries to find a way to stop the psychopath. With time, her fates intersect with the fates of other characters. Depending on the decisions taken during the game, the players can learn about different versions of the story and take part in different events. The devs also prepared several different endings to be discovered.
Mechanics
Clock Tower is a point & click adventure game that is distinguished by horror elements. The players must not only solve logic puzzles with the use of found objects but also get information from the characters they meet and avoid contact with the deadly Scissorman. If we are noticed by him, the only option is to escape and take refuge in one of the many hiding places.
Technical aspects
Clock Tower is the first game from Human Entertainment to feature 3D graphics. The title uses additional accessories for the console, such as a dedicated PS1 mouse. One of the most important advantages of the game is the dark story, depressing and considered to be one of the most terrible in the history of digital entertainment.
Game mode: single player
User score: 8,4 / 10 based on 28 votes.
Age restrictions Clock Tower: 18+