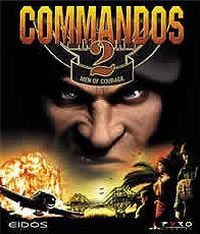 Commandos 2: Men of Courage
The sequel of the popular turn-based tactics game from 1998, developed by Spanish Pyro Studios. In Commandos 2: Men of Courage we take over a squad of well-trained commandos, sent to complete various missions behind enemy lines.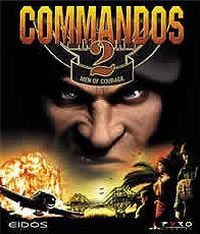 Game mode: single / multiplayer
Multiplayer mode: local network / Internet
Commandos 2: Men of Courage for PC, PS2 and XBX is a tactical strategy game which is a continuation of the famous Commandos: Behind Enemy Lines from 1998. Once again we take over a unit of well-trained soldiers sent to complete a number of missions behind the enemy lines. Each of the commandos (the group was reinforced, and now consists of: a green beret, sapper, spy, seductress, scubadiver, sniper, driver, and a dog(!)) has a narrow specialization and different abilities, making the player the person responsible for the coordination and the well-being of each member of the squad.
Plot
The players are left with ten different missions taking place all around the world (Europe, Asia, Arctic) that are built from smaller tasks, such as: sending a message, stealing secret documents or the Enigma machine, destroying an object, eliminating a given person, using a plane to escape the area, etc. Each level has a torn picture with fragments scattered all over the mission area (in safes, chests, etc.). Completing the jigsaw unlocks a bonus mission, for example a motorboat race between naval mines.
Mechanics
We can now enter and move around interiors (including a submarine), seen from a rotating camera. The exteriors can be seen from four different shots – every 90 degrees, plus a zoom with a few different levels. The employed graphical engine is powerful enough to create extensive and detailed environments, full of objects such as: buildings, plants, vehicles, bunkers, obstacles, etc. Characters and enemies are more lifelike thanks to polished animations.
Our commandos also benefited from new mechanics, and can now transfer items between each other, use new weapons and drive a large set of vehicles, all based on real machines from World War II era. Enemy AI had also been improved, with enemy soldiers having better vision, hearing, and being more aware on the situation at hand, which makes them much harder to eliminate.
Technical Aspects
The game is complemented by a cinematic soundtrack and sound effects of good quality, for example, realistic environment sounds, or characteristic voices of each team member.
PEGI Rating
System requirements
Recommended:
Pentium II 300MHz
64MB RAM