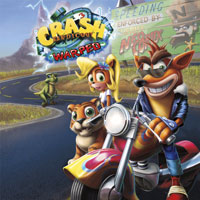 game language: English
game release date for PS4:
30June2017
Crash Bandicoot 3 HD for PS4 is a total remake of the third installment of the legendary series Crash Bandicoot. The franchise was created during the mid-nineties by Naughty Dog, the developer that created series like Uncharted, Jak and Daxter and The Last of Us. The main protagonist of the series is an eastern barred bandicoot named Crash. The entries of the series were at first released exclusively for PlayStation and PlayStation 2. For a time they even were the flagship titles of both consoles. Crash Bandicoot 3: Warped debuted in 1998. The game expanded the ideas of the original game and introduced some new gameplay mechanics. The remake was developed by Vicarious Vision, a studio that since 2011 was working only on Skylanders series.
Plot
The game takes place after the events depicted in the second entry in the series. The Cortex Vortex space station - that was created by doctor Cortex to hypnotize and enslave everyone on Earth - crashes on the surface of the planet. An evil deity named Uka Uka escapes from the wreck. Together with Cortex, the deity once again tries to conquer Earth, this time by using the power of the magic crystals hidden in various ages of history. Crash and his sister Coco will try to stop them.
Mechanics
In Crash Bandicoot 3 HD for PS4 the player is tasked with finding 25 crystals that were also being gathered in the previous game. This time the crystals are hidden in various times of history like prehistory, ancient times, medieval and future. The player can get there by using a special time travel machine that also serves as a hub divided into five chambers – it can be used to select levels. Each chamber gives access to six levels (five default ones and the sixth that is a boss arena).
During the game the player controls Crash or Coco. They both can use basic attacks known from two previous entries in the series. By using them one can take care of each encountered opponents, although fighting bosses requires more effort. At the beginning of the game the protagonists have five lives, after losing which it is possible to start playing from the beginning. In numerous chests the player can find various secrets and power-ups such as Aku Aku masks that provide protection and Wumpa fruits. During the game the player will also obtain a few types of gems and relics that are hidden in chests or given after completing a level many times.
Technical aspects
The developers of the remake for PS4 recreated the original game from scratches by using original concepts created by Naughty Dog, classic models and projects. In addition to completely refreshed graphics, the developers also provided minor improvements to gameplay and user interface. The title also offers new cutscenes and a soundtrack.

Expectations: 9.4 / 10 calculated out of 17 players' votes.
Similar games:
PEGI Rating