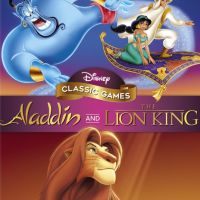 Disney Classic Games: Aladdin and The Lion King is a collection containing remastered versions of two classic adventures from the 1990s. The set was prepared by Digital Eclipse studio, which specializes in this type of productions, having such positions as Street Fighter: 30th Anniversary Collection or The Disney Afternoon Collection.
As the title suggests, Disney Classic Games: Aladdin and The Lion King consists of two productions. The first one is Disney's Aladdin, originally developed by Virgin Games, which was released in 1993 on a 16-bit Sega Genesis console and then transferred to PCs and Amiga.
Second title is Disney's The Lion King, released in 1994 for SNES and Sega Genesis, and then converted to PCs and Amiga as well as NES, Master System, Game Boy and Game Gear consoles. This project was created by Westwood studio, known mainly from RTS Command & Conquer series.
Plot
Both games closely follow the script of animated films, which they are adaptations of. In Disney's Aladdin we play the title thief from the city of Agrabah, who, due to the know-how of the evil vizier Jaffar, has to get a magical lamp from the Cave of Miracles.
Disney's The Lion King tells the story of an orphaned little lion named Simba, whose aim is to throw off the throne a lion known as Scar, who is responsible for the death of the hero's father.
Mechanics
Both games are classic two-dimensional platformers. During the game we explore maps, collect items, avoid threats and fight enemies. The game is enriched by special levels in the form of various mini games.
The authors of Disney Classic Games: Aladdin and The Lion King faithfully recreated the mechanisms of the original 16-bit versions of both games, but there were also some novelties. Both titles offer the option to quickly save the state of the game, scroll back and forth, and activate such as immortality and infinite number of lives. Players can also jump to any part of the campaign of these productions and enable automatic mode, which determines how to go through the segment. Ist
In addition, Aladdin offers improved gameplay and bug fixes. This production was also enriched with a special demo, shown at the fair before the premiere.
Game modes
Both productions in the set offer only single player mode.
Technical aspects
Both games offer a refreshed 1080p visuals, but there is also the option of having fun in the original resolution. A big attraction is also the fact that we can choose between versions of each of these games from the consoles Sega Genesis, Game Boy and Super Game Boy. In the case of The Lion King, there's also the SNES edition.
PEGI Rating
System requirements
Minimum:
Intel Core i3-530 2.93 GHz / AMD Phenom II X4 940 3.0 GHz
2 GB RAM
graphic card 1 GB GeForce GT 630 / Radeon HD 6570 or better
3 GB HDD
Windows 7 64-bit
Recommended:
Intel Core i3 3.0 GHz
8 GB RAM
graphic card 1 GB GeForce 8800 GT / Radeon HD 4890 or better
3 GB HDD
Windows 10 64-bit