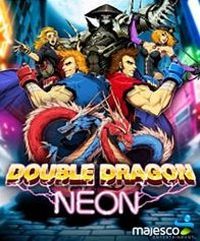 Game mode: single / multiplayer
Multiplayer mode: Internet / common screen, players: 1-2
Fight as twin brothers Billy and Jimmy Lee on an exciting adventure to save their shared love interest, Marian from the evil Skullmageddon across 16 brawling levels filled with elaborate missions, malicious enemies and over-the-top battles. Double Dragon: Neon is the reinvigorated update to the 80's beat'em up smash hit that is reminiscent to the original. Trained by their sensei in the special form of martial arts called Sôsetsuken, Billy and Jimmy are equipped with lethal combat skills and weaponry to bust some faces and battle the baddest goons around as they journey across the galaxy to rescue the love of their lives.
Based on the classic and popular 80's franchise, Double Dragon: Neon is the action-packed update that reflects the excitement of today's side-scrollers mixed with an 80's nostalgia aesthetic.
Developed by WayForward, the award-winning team known for bringing franchise favorites back to audiences in exciting new ways. Credits include: BloodRayne: Betrayal, A Boy and His Blob, Batman: The Brave and the Bold and Contra 4.
Experience intense platforming challenges including arrow attacks, stomp planks and retractable spikes in HD across 16 different levels that range in 5 different degrees in difficulty.
Get your friends in on the action with two player fast paced co-op with a slew of combos and the ability to drop in and out on the fly.
Travel to strange and unknown lands including: Intergalactic spaceship, rural countryside, a mystical laboratory, the terrifying underground, a haunted ghost forest, and an out-of-this-world chaos dimension.
Deliver extreme damage by using a variety of brutal combos including slide tackle, spin kick, flying knee, shoulder throw and more.
Pick-up and throw objects including trashcans, bats, knives, and whips to use as weapons against unsuspecting enemies.
Visit the in-game store throughout the game to get helpful hints and purchase songs, weapons, and other items to improve your fighting ability.
Use songs you've found or purchased to add to your mix tape. Songs possess mystical powers that only a true Sôsetsuken master can harness. You can even level up songs for maximum rocking!
Utilize the World Map to checkout your progress between stages.
Age Rating
age requirements: everyone
System requirements
Minimum:
Intel Pentium D 805 2.66 GHz / AMD Athlon 64 X2 4600+ 2.4 GHz
1 GB RAM
graphic card 512 MB GeForce 9600 GT / 1 GB Radeon HD 4650 or better
3 GB HDD
Windows 7/8
Recommended:
Intel Core 2 Duo E7500 2.93 GHz / AMD Athlon X2 7850 2.8 GHz
2 GB RAM
graphic card 1 GB GeForce 9600 GT / Radeon HD 4650 or better
3 GB HDD
Windows 7/8 64-bit