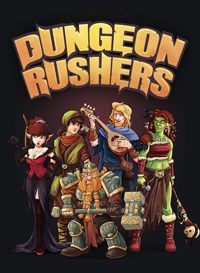 Dungeon Rushers
An RPG from the dungeon crawler genre, developed by the independent studio Goblinz. Players are taken to fantasy world filled with dungeons to explore, treasures to find and monsters to defeat.
RPG | fantasy | turn-based | 2D | dungeon-crawler | indie games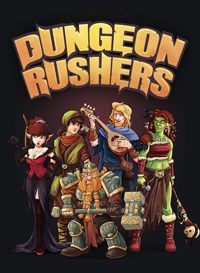 Game mode: single / multiplayer
Multiplayer mode: Internet
Dungeon Rushers on PC, Switch, etc., is a project of the independent Goblinz Studio. Players find themselves in a fantastic world filled to the brim with various dangers, dungeons and valuable items.
Plot
The plot of Dungeon Rushers doesn't differ much from the standards of the genre - we lead a team of fearless warriors, whose task is to defeat the dark ruler hidden in the deepest dungeon. During the game, we are joined by other members possessing unique abilities, which they use on the battlefield. For example, Trashkarog is a shaman who fights alongside fantastical beasts, Elian uses a bow, Thorgrim is unmatched in using a powerful hammer, and Pod is a bard who encourages his allies to fight. The story has been enriched with a solid dose of humor, and its subsequent plot points are presented with animated cut-scenes.
Mechanics
Gameplay in Dungeon Rushers is based on two things: exploration and combat. We explore the fantastical land on a 2D map, which not only presents players with a wider view of the explored labyrinths but also informs them about the dangers. When the team encounters an enemy, the action moves to the battlefield. The game uses a turn-based combat system, and the key to success is the proper deployment of the fighters and wise use of their abilities. In addition, the places we visit are full of various objects - the equipment found on the way can be distributed among heroes, thus increasing their combat potential. The game also offers an advanced crafting system, allowing you to create useful potions, or make and improve weapons. We also often find traders who can sell us their products.
Game modes
Dungeon Rushers can be played alone or with friends. The core of the game is the single-player campaign, but it also offers a multiplayer mode. The creators have implemented a special arena where we can fight duels players selected with the matchmaking system.
The game has a dungeon creator system - we have access to a whole range of guards, traps, and pieces of equipment, which can be placed in the mazes created by us. Players can share their projects with the community, which, combined with an additional difficulty level unlocked after completing the story mode, significantly increases the replayability.
Technical aspects
Dungeon Rushers offers 2D graphics. The game uses a colorful cartoon-looking style, and the transparent interface helps in gameplay a lot. The events on the screen are accompanied by an original soundtrack.
Similar games:
Age Rating
age requirements: 12+