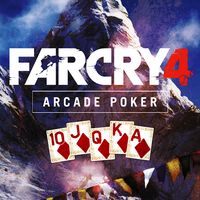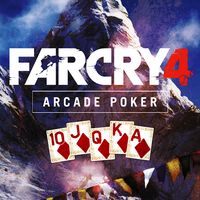 Far Cry 4 Arcade Poker
A simple logic arcade game and at the same time a mobile application accompanying the fourth major entry in Ubisoft's Far Cry series. Far Cry 4: Arcade Poker combines rules of the classic poker with features of a classic arcade game like Tetris.
Puzzle | gambling | play for free | card games | arcade elements | companion app | Poker
Far Cry 4 Arcade Poker is a simple puzzle arcade game with gambling twist. This title was prepared by Ubisoft company for the launch of Far Cry 4, and it serves as a companion app for the latest installment of one of the flagship series in the company's publishing catalogue.
Gameplay mechanics combine traditional poker rules with elements characteristic for games like Tetris. You have to match falling cards to form poker hands, before they hit the bottom. Matching elements can be dragged to the right place, whereas the useless ones can be replaced with a single touch of a finger. At each level you have to meet specific requirements, e.g. get a pair or three of a kind. Each poker hand is appropriately scored, and if you manage to get a better one than required, you receive extra cash.
What makes the Ubisoft game attractive for all fans of the series, is the fact that the cash acquired in the game improves the budged of your character in Far Cry 4. This way you can expand your virtual wealth, e.g. during a dull lecture or while waiting for a bus. While playing you can see graphical themes and hear pieces of music from Far Cry 4 – you will e.g. see familiar game characters in the role of jokers. The app is free, but the developers included optional micropayments, offering a number of useful power-ups. These allow you e.g. to cancel an action or use your Facebook friends' photos on the side of the cards.
Game mode: single player
App size:
Age restrictions Far Cry 4 Arcade Poker: 12+
Far Cry 4 Arcade Poker System requirements
Additional information:
Internet connection is required
Additional information:
Internet connection is required