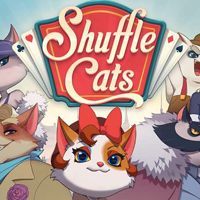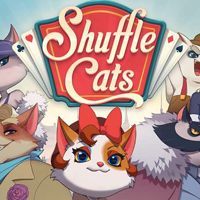 Shuffle Cats
An online card game from King studio, known from its many casual projects. Shuffle Cats takes place in London of the 20s, though it does strand a lot from historical truth, as it takes to roofs of buildings, where the titular, bipedal cats compete playing a card game.
Shuffle Cats is a card game released on AND, browsers and iOS. The game is available in a free-to-play model with microtransactions and was developed by King studio, known for such titles as Candy Crush Saga, Bubble Witch Saga or Paradise Bay.
Plot
The action is set in London in the 1920s but this version of the city differs from what we remember from history books. We control one of humanoid cats and play cards on rooftops.
This unusual idea is only an excuse to present good looking characters. The game itself is devoid of a traditional plot and focuses exclusively on gameplay.
Mechanics
Unlike typical card games, which are based on rules developed by the developers themselves, Shuffle Cats is based on the well-known and popular rummy. Its rules have been faithfully recreated here and the only change is the addition of so-called lucky charms, which act as occasionally used special skills to help you achieve victory.
The game is primarily focused on online matches it offers extensive matchmaking, numerous social networking options and built-in chat. For those who are bored with the traditional rummy, there is a possibility of unlocking special challenges, which strongly modify the rules of the game and give you specific objectives to complete.
Technical aspects
The strength of Shuffle Cats is the quality of execution. Cats and locations look great, the project has quite a unique style, and the overall positive impressions are enhanced by numerous animations. All this makes you look at the game with real pleasure.
Last updated on 19 October 2016
Game mode: multiplayer Multiplayer mode: Internet
App size:
Age restrictions Shuffle Cats: Good for all ages.
Shuffle Cats System requirements
Additional information:
Internet connection is required.
Additional information:
Internet connection is required.