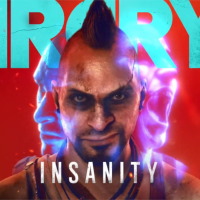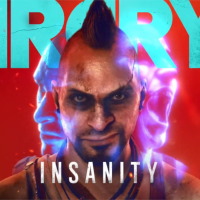 Far Cry 6 - Vaas: Insanity
FC6 - Vaas: Insanity
Vaas: Insanity is the first big DLC for Far Cry 6. The expansion allows you to play as the villain from the third part of the series and the gameplay has been enriched with roguelite elements.
This is Far Cry 6 expansion pack.
Action | FPP | roguelike | FPS | co-op | shooters | Find Your Next Game
Far Cry 6 Vaas: Insanity is the first big expansion pack for Ubisoft's popular 2021 first-person action game. Both the basic version of the production and the expansion were developed by Ubisoft Monreal studio.
Plot
In the DLC, the player takes on the role of Vaas Montenegro, a psychopathic villain known from Far Cry 3. In the add-on, he goes on a journey inside his tormented mind, trying to overcome his own demons and break the cycle pushing him deeper and deeper into the depths of madness.
Mechanics
The expansion keeps the basic game mechanics from Far Cry 6 but enriches them with elements of the roguelite genre. In DLC we get new open world, filled with enemies to eliminate, items to collect and bases to recapture. We unlock new skills and gain better weapons and equipment.
At the same time, many elements of the game are set randomly. Far Cry 6 Vaas: Insanity was designed in such a way that the game can be played many times, each time facing new challenges. At the beginning of each adventure the player chooses between five difficulty levels. The higher he chooses, the more powerful enemies he will encounter, but killing them will earn him better items as a reward.
Completing quests unlocks new items, and part of the progress (e.g. weapons obtained and their storage upgrades) is saved between each session, which allows us to take on increasingly difficult challenges. On the other hand, the death of the character causes the loss of equipment, but only that which he had on him, not the items left in the lockers.
Game modes
The expansion offers only single player mode.
Technical aspects
Vaas: Insanity is not a standalone expansion pack, so you need the base version of Far Cry 6 to enjoy the game.
Game mode: single / multiplayer Multiplayer mode: Internet Player counter: 1-2
PEGI rating Far Cry 6 - Vaas: Insanity
Far Cry 6 - Vaas: Insanity System requirements
Minimum:
(30 fps / 1080p) Intel Core i5-4460 3.2 GHz / AMD Ryzen 3 1200 3.1 GHz
8 GB RAM
graphic card 4 GB GeForce GTX 960 / Radeon RX 460 or better
Windows 10 64-bit
Recommended:
(60 fps / 1080p) Intel Core i7-7700 3.6 GHz / AMD Ryzen 5 3600X 3.8 GHz
16 GB RAM
graphic card 8 GB
GeForce GTX 1080 / Radeon RX Vega 64 or better
Windows 10 64-bit
Ultra:
(30 fps / 4K / ray tracing) Intel Core i7-10700K 3.8 GHz / AMD Ryzen 7 5800X 3.7 GHz
16 GB RAM
graphic card 10 GB GeForce RTX 3080 / 16 GB Radeon RX 6800 or better
Windows 10 64-bit