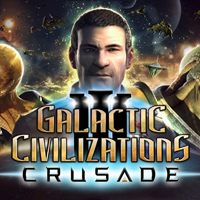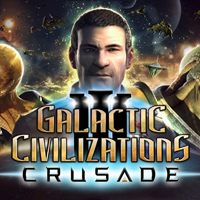 Galactic Civilizations III: Crusade
PC
Galactic Civilizations III: Crusade is an expansion to Galactic Civilizations, a turn-based 4X strategy game developed by Stardock. The expansion offers a new campaign, the titular Crusade.
This is Galactic Civilizations III expansion pack.
Strategy | turn-based | 4 x | Space
Galactic Civilizations III: Crusade

Release Date PC

04May2017
developer: Stardock Corporation publisher: Stardock Corporation Official website

game language: English
Galactic Civilizations III: Crusade for PC is an expansion to the 2015's 4X stragegy Galactic Civilizations III. It was developed by Stardock – the creators of the Galactic Civilizations series and games like Elemental: Fallen Enchantress and Sorcerer Kings: Rivals. The core game is required to play Crusade.
The Plot
The expansion introduces a new campaign to the game, the titular Crusade. The human empire finally lost its patience. With diplomatic relations leading to constant standstill, humans decide to fight for their place in the Galaxy. Their first step is going to be the annihilation of the Drengin civilization, and every other race that will stand in their way. To achieve that goal, human empire will use their advanced army, spies, and a mysterious artifact found in another dimension.
Mechanics
Galactic Civilizations III: Crusade for PC introduces three new playable factions: Terran Resistance from Earth, the Onyx Hive that dwells in the asteroids, and the Slyne – arrogant and highly advanced cybernetic amoebas.
Now, players can also create their own civilizations, including its leader, ideology, and abilities. We can also create our civilization's space ships and write its history and dialogue lines. We can do all of that with the help of a thing called the Civilization Builder, i.e. a special tool integrated with Steam Workshop, which allows us to share our creations with the game's community.
Galactic Civilizations II: Crusade for PC also introduces the citizens system. It allows us to create characters with specific functions (like admiral, engieneer, celebrity or pioneer) so they can aid our civilization's development. Crusade also introduces the espionage mechanics. Our secret agents can steal alien technologies, spread rumors to create social turmoil, sabotage our opponents, and even murder our opponent's citizens.
The rather simplified Invasion system from the base game was replaced with a new, more complex one. Now we have to train our soldiers and manually control our invasions. We also use this mechanics to defend our worlds from opposing factions.
Galactic Civilizations II: Crusade also introduces some lesser changes and upgrades. There are more mercenaries to hire, we can create space stations by ourselves, and there are more various random encounters in the game. The interface and the technology tree were also overhauled.
Last updated on 06 February 2017
Game mode: single / multiplayer Multiplayer mode: Internet
PEGI rating Galactic Civilizations III: Crusade
Galactic Civilizations III: Crusade System requirements
Minimum:
Intel Core 2 Duo 1.8 GHz/AMD Phenom X4 1.8 GHz
4 GB RAM
graphic card 512 MB Intel HD 4000 or better
12 GB HDD
Windows 7/8/8.1 64-bit
Recommended:
Intel Core i5 3.0 GHz
6 GB RAM
graphic card 1 GB GeForce GTX 560 or better
15 GB HDD
Windows 7/8/8.1 64-bit