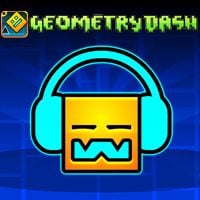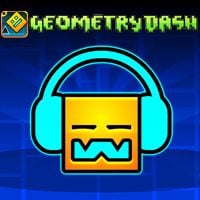 Geometry Dash
Geometers Dash is a combination of a platform arcade game with a rhythmic game, in which the player controls a colorful square and travels through more and more complicated levels. The title also offers the possibility to build your own boards.
Geometers Dash, released on AND, iOS and PC, is a combination of an arcade platformer and rhythmic game. By jumping or flying over obstacles using a rocket, we create a certain rhythm that fits into the soundtrack. The game was developed by RobTop Games.
Plot
W create our character from colored squares. At first, it is a smiling dice, which can then be expanded thanks to the bonuses gained in the game. The player's task on each level is to go through a track filled with obstacles in the form of various geometric shapes as quickly as possible. Each movement has a specific sound that matches the background music (seven soundtracks to choose from). In some levels, we fly on an antigravitational rocket.
Mechanics
The player goes through a moving board to the left and jumps upwards or bypasses obstacles. The game is easy to master, but the beginners can choose training levels to improve their skills before moving on to regular maps.
Game modes
Geometers Dash offers entertainment primarily for one person. Players can check their achievements on an ongoing basis, the prizes unlocked during the game and elements to customize their characters (new colors, shapes, avatars, etc.). Thanks to the available map editor, everyone can create their level and then share it with other players.
Technical aspects
Dash Geometers for AND, PC and iOS platforms boast colourful 2D graphics, whose simplicity is perfect for playing.
Game mode: single player
User score: 7,7 / 10 based on 97 votes.
Age restrictions Geometry Dash: Good for all ages.