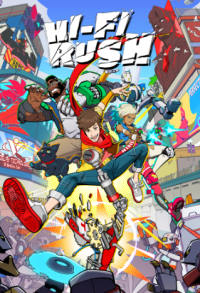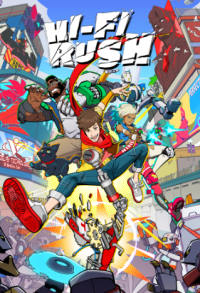 Hi-Fi Rush
Hi-Fi RUSH is a TPP rhythm action game, in which we face off against mechanical foes to the rhythm of music. The game tells the story of Chai, a "defective" aspiring rockstar, traversing a futuristic city with his allies and battling against an evil corporation.
Action | TPP | science fiction | rhythm | music | action adventure | Xbox Game Pass
Hi-Fi RUSH is a TPP rhythm action game. It was developed by Tango Gameworks, the creators of The Evil Within and Ghostwire: Tokyo, and published by Bethesda Softworks. It was unexpectedly announced at the Developer_Direct show and released on the same day, including in Microsoft's Game Pass service.
Plot
The game's main protagonist is Chai, a self-proclaimed "future rockstar". Due to an unfortunate accident, his heart fuses with a music player, drawing the attention of an evil mechanical megacorp. Chai soon finds allies willing to help him in his battle against the corporate machines and the mad executives controlling them, who consider Chai a "defect".
Mechanics
Hi-Fi RUSH is a third-person action game, its gameplay shown from behind the playable character's back. It resembles slashers such as the Devil May Cry series: the player faces hordes of enemies and powerful bosses while constantly graded by the game. Style matters just as much as our efficiency in combat.
Diverse combos and creativity bring us the highest possible scores. During battles we can use special abilities and summon one of our three allies, with whom we can execute combined attacks, affecting our final rating at the end of the level (or, rather, "track" as the game calls them).
There is, however, an additional layer to the gameplay. Though Hi-Fi Rush doesn't actively punish us for not sticking to the game's rhythm, it does affect our rating at the end of the stage. Striking enemies in accordance to the beat rewards the player, although said feature is not exclusive to combat. The game wants the player to adhere to the music's rhythm during exploration as well.
Game modes
Hi-Fi Rush was designed only with singleplayer in mind. The game has five different difficulty levels, satisfying both casual players and those seeking a greater challenge. The highest difficulty, Rhythm Master, must first be unlocked by beating the game once on any difficulty.
Technical aspects
As befitting a rhythm game, music is an important part of Hi-Fi Rush. The gameplay is accompanied by songs by bands such as Nine Inch Nails, The Prodigy and The Joy Formidable. Since some of them are licensed, the game includes a special streaming mode, replacing them with tracks made originally for the game.
Visually, the game's cel-shaded 3D graphics give it a comic book-like look. This is further emphasized by sound bubbles accompanying certain sounds (such as explosions) and spectacular visual effects.
The game is fully voice-acted, including actors such as Robbie Daymond, Erica Lindbeck and Roger Craig Smith.
Last updated on 01 February 2023
Game mode: single player
User score: 8 / 10 based on 88 votes.
Age restrictions Hi-Fi Rush: 12+
Hi-Fi Rush System requirements
Minimum:
Intel Core i5-6500 3.2 GHz / AMD Ryzen 3 1200 3.1 GHz
8 GB RAM
graphic card 2 GB GeForce GTX 1050 / Radeon RX 560 or better
20 GB HDD
Windows 10 64-bit
Recommended:
Intel Core i7-4770 3.4 GHz / AMD Ryzen 5 1300X 3.5 GHz
8 GB RAM
graphic card 4 GB GeForce GTX 1050 Ti / Radeon RX 570 or better
20 GB HDD
Windows 10 64-bit