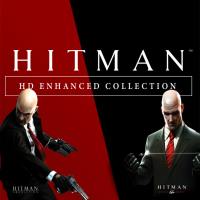 Hitman HD Enhanced Collection is a collective release of refreshed versions of two Hitman titles. This package includes Hitman game remasters: Blood of Forsa and Hitman: Absolution, both adapted for PlayStation 4 and Xbox One consoles by IO Interactive studio.
Story
The main character of the Hitman series is Agent 47 - a silent killer with a characteristic tattoo in the form of a barcode and the best specialist in his field. In both versions included in the package Hitman HD Enhanced Collection history focuses on various orders, in which the protagonist eliminates further goals commissioned by ICA agency. However, other, much more important events take place in the background. In Hitman: Bloody Forsa Agent 47 faces the mystery of the murders of ICA agents and the disappearance of his superior. In Hitman: Absolution, however, we have to deal with former employers in an intrigue in which Diana Burnwood, known from previous editions, will play a mediocre role.
Gameplay
Titles included in Hitman HD Enhanced Collection are classic third-person sneakers, in which there is no way to look for an open world straight from newer versions. Each mission takes place in a closed location, where you will find many NPCs and items, and our goal is usually to eliminate the set goals. In accordance with the traditions of the series, both titles allow us to complete tasks in many ways, for example by firing at all those standing in our way. However, it is much better to get rid of the delicatessen without paying attention to outsiders. We can use sniper rifles or sneak behind the guards' backs and use a pistol with a silencer, but with a bit of effort we will also find more creative solutions, for example by making the appearance of an unfortunate accident. Planning is facilitated by the ability to check the location map and the option to select equipment before each mission.
After completing the task, the game gives us a grade depending on how you complete the mission. The more noise we make, the more corpses we leave behind us - the worse will be the final note. In Hitman: Blood Money, this translates into a publicity factor, and excessive infamy may cause security guards to recognize us too quickly during the next assignment, which will significantly hamper the passage of the mission. Therefore, it is better to try to eliminate the target silently and as far as possible bloodlessly, and if we fail to do so, to hide the traces of their activity, so that the guards, cameras or even random passers-by do not pay attention to them.
Game modes
Both titles included in Hitman HD Enhanced Collection are strictly single player games, so none of them offers multiplayer mode in any form.
Technical issues
The IO Interactive studio has clearly improved the visuals of the games contained in Hitman HD Enhanced Collection. In the course of the game we will notice improved lighting and higher quality texture. Both productions also offer support for 4K resolution and operate at 60 frames per second, as well as super-sampling and image scaling. In addition, the authors decided to improve control over the original editions.
Please let us know if you have any comments or suggestions regarding this description.
PEGI Rating
System requirements