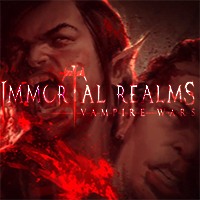 Immortal Realms: Vampire Wars
A turn-based strategy in which we hit the middle of a conflict between three vampire clans and we manage our empire and lead our troops to clash with adversaries. This is complemented by cards that provide our subordinates with special powers and effects.
Strategy | fantasy | turn-based | tactical | card games | vampires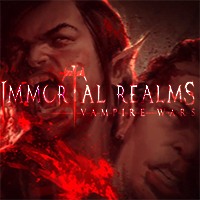 Immortal Realms: Vampire Wars is a turn-based strategy enriched with elements taken from cards. The title was developed by Palindrome Interactive studio and was published by Kalypso Media.
Plot
Immortal Realms: Vampire Wars takes us on a journey into the fantastic world of Nemire, divided into three clans of Vampires. The first one is Dracul, whose representatives live in the Warmont region and feed on the blood of their subordinates. The second is Nosfernus controlling the barren, defiled lands of Mourterra, and the third is the mysterious Moroia, which combines blood with magic and devotes itself to dark rituals in the cold wilderness of Esain. Although the individual factions lived in harmony for a long time, with the arrival of the bloody moon, the world of Nemira was shaken by another civil war. The player hits the middle of the conflict.
Mechanics
In Immortal Realms: Vampire Wars the action was shown from a bird's eye view. The game takes place on two planes, the first of which is the management of the empire, which we make effective in the Kingdom mode. We can move our troops around the map, recruit new units and unlock technologies that increase the combat potential of our clan. The second, the 'fighting mode', is when our subordinates meet enemy troops. Then the camera moves close to the battlefield and we have to be tactical in our moves.
In addition, each clan has its own deck of cards to give it an advantage over the opponents. As we progress, we expand the range of our products, and the effects they guarantee can be combined into powerful combinations.
Game modes
The pillar of the game is a twelve-mission feature campaign in which events are presented from the perspective of four vampire lords. In addition, the Sandbox module and the random skirmish mode are waiting to be checked.
Technical aspects
Immortal Realms: Vampire Wars has gloomy graphics, which in terms of quality are slightly different from those of the genre.
System requirements
PC / Windows
Recommended: Quad Core 3.4 GHz, 8 GB RAM, graphic card 8 GB GeForce GTX 1080 or better, 24 GB HDD, Windows 10 64-bit
Minimum: Quad Core 3.2 GHz, 8 GB RAM, graphic card 2 GB GeForce GTX 770 or better, 24 GB HDD, Windows 10 64-bit