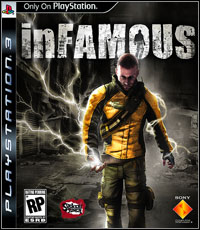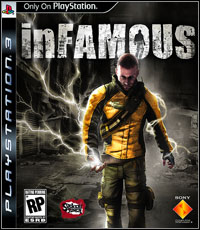 inFamous
PS3
Third-person action game set in a typical modern metropolis, in which we take control over the hero endowed with supernatural powers. The title was developed by Sucker Punch, an American studio known for their Sly action adventure series released on PlayStation 2.
Action | TPP | sandbox | superheroes | TPS | action adventure | PlayStation exclusive titles
inFamous

Release Date PS3

26May2009
developer: Sucker Punch Productions publisher: Sony Interactive Entertainment Official website

game language: English
A massive explosion rips through six square blocks of Empire City, leveling everything and killing everyone in its path... everyone, except you!. From the creators of the award-winning Sly Cooper series, Sucker Punch brings you inFAMOUS, an open-world action-adventure title exclusively for the PLAYSTATION®3 system.
Players will feel what it's like to be granted incredible powers... how you use them is up to you. The consequences of your actions will affect you, the citizens, and the city around you. You'll develop and grow your powers, and eventually uncover the purpose of it all.
Feel what it's like to wield extraordinary electrical-based powers; and grasp the responsibility that comes with it. Battle against powerful iconic villains and uncover your true purpose.
Climb and interact with anything! Have complete freedom to explore Empire City. Scale the cityscape to discover new vantage points and engage in vertical combat.
Play in a living and breathing city ecology. Watch the citizens and city react and evolve depending on your actions. Events will unfold based on the role you take, creating broader reactions in the city's people and environment.
Game mode: single player
Media type: 1 BD
User score: 8,6 / 10 based on 2914 votes.
Pre-release expectations: 7.8 / 10 based on 296 votes.
PEGI rating inFamous