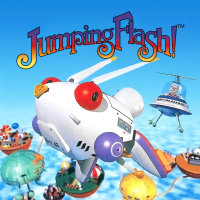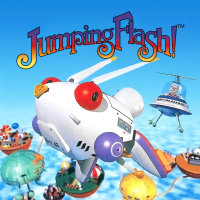 Jumping Flash!
The first ever three-dimensional platform game. The production allows the player to play the role of a mechanical rabbit, which tries to save the world by collecting special objects scattered over six worlds.
Arcade | platform | 3D platformers | reeditions/remasters/remakes
Jumping Flash!, released on PS1, is the first-ever platformer done in full 3D. The production was created in 1995 by Exact and Ultra studios, and its publisher was Sony Computer Entertainment.
Plot
The main hero of Jumping Flash! is a mechanical rabbit named Robbit. He is sent to the planet Crater, where he must stop the mad scientist Baron Aloh from destroying the world.
Mechanics
Jumping Flash! was created to show the world the capabilities of the Japanese console in terms of generating 3D graphics. For this reason, the production was the first representative of the platformer genre to allow players to move in all three planes. The game is divided into eighteen main levels and several bonus ones, all set in six different worlds.
In most locations, the player's goal is to get four "jet pods" within a ten-minute time limit. From time to time, Robbit must also face a powerful boss. The action is shown from the first-person perspective, and the protagonist can shoot enemies and perform double and triple jumps. While jumping, the camera moves downwards, making it significantly easier to determine the landing spot.
In addition to the jet pods, there are also other objects on the maps that should help us complete the task. Some of them, such as rockets and bombs, increase the protagonist's offensive abilities. Others can restore his life, stop the enemies from moving for a while, or provide temporary invisibility.
Game mode: single player
Age restrictions Jumping Flash!: Good for all ages.