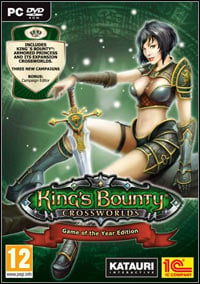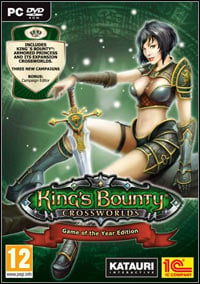 King's Bounty: Crossworlds Game of the Year Edition
PC
A set of two games from the "King's Bounty" series. Both productions combine elements of real time strategy and cRPG, clearly referring to the famous "Heroes of Might & Magic" series.
Strategy | fantasy | turn-based | RPG elements | package
King's Bounty: Crossworlds Game of the Year Edition

Release Date PC

17September2010
developer: Katauri Interactive publisher: 1C Entertainment Official website

game language: English
King's Bounty: Crossworlds Game of the Year Edition - contains King's Bounty: Armored Princess, all the new elements and is a standalone product.
King's Bounty: Armored Princess is an adventure role-playing game in which you play the role of Princess Amelie as she embarks upon a quest to explore the previously uncharted world of Teana. She travels into the unknown in search of her missing mentor the legendary knight, Bill Gilbert, a warrior of wide renown and peerless reputation.
Take care, for Teana is a new world filled with unknown dangers! Armies of terrible creatures, terrifying monsters, huge bosses and the bloodthirsty race of the Lizardmen all stand in the Princess's path. Adventure brings the constant threat of danger in its wake bringing the main character face to face with a host of formidable enemies with whom she must do battle if she is to succeed in her quest. As she grows in experience Amelie will develop new powers, skills and abilities to aid her along the way – even taking to the air, surmounting any obstacle in her path. Throughout her travels the Princess is accompanied by her faithful pet dragon who never leaves her side. This beast –still a young dragon – appears somewhat small and cute, yet is deceptively dangerous owing to its rapidly developing combat skills. Docile only in the gentle hands of the princess, in battle he will fiercely protect his mistress by all means available. At first he makes simple attacks and recovers treasures, but he will ultimately learn to enter a battle frenzy and even awaken the force of volcanoes.
Here are some of the game features of King's Bounty: Armored Princess:
A new and exciting story set in an uncharted world.
The opportunity to play a female character – Princess Amelie!
Three character classes: Warrior, Paladin and Mage, each with their own gameplay style.
Medals awarded for special achievements, rewarding the player with bonuses.
A pet dragon to aid you in battle: as he increases in experience he will learn and refine nine unique skills.
A new race – the bloodthirsty Lizardmen.
The ability of your trusty steed to transform into a Pegasus and fly!
Instantaneous over-sea voyages between any of the discovered continents.
Ability to employ an armor-bearer.
Revival of the classic system of contracts and headhunting quests!
Enhanced role-playing system, including dozens of parameters and skills, with the potential to develop your character to level 50 and above.
The combination of a dynamic adventure and turn-based tactical battles.
Numerous spells to use on the battlefield – as well as Wanderer Magic, which can be used on the adventure map.
New unique bosses: Driller, Zilgadis, Arch-demon Baal, and others.
Hundreds of different battle arenas. Unique battlefields for the capturing of castles and the upgrading of items.
Various traps and bonuses that appear within the battle arenas, which can be used by the clever commander to turn the tide of battle.
Unique system of living items, capable of exerting their own will, and sometimes even changing their essence.
New types and classes of objects.
A modern game engine that supports all the latest graphics cards.
Attractive and well thought out interface.
Beautiful artistic style based on classic fantasy characters.
King's Bounty: Crossworlds is a new addition to the famous King's Bounty series. The new release will include the "Orcs on the March" expansion, the two new independent campaigns "Champion of the Arena" and "Defender of the Crown" and a convenient editor with help system. This editor will allow you to create additional content for the game and alter it in any way you wish.
«Orcs on the March»
The world of Teana is threatened once again. The female orc leader Red Scrounger, craving to gain unlimited power, gathers her army of followers and departs in search of the ancient Source of Immense Force. If her evil plan succeeds Teana will be destroyed, and all its inhabitants will perish. In despair other orc chiefs ask the humans for help. Meanwhile, a mysterious tower appears near the coast of Debir Island and even the greatest magicians of the kingdom cannot figure out how to enter it…
New gameplay features for «King's Bounty: Armored Princess»
Nine previously unseen creatures;
Fifty new items, item sets and artifacts;
Thirteen magic spells;
Over fifty new creature abilities;
New skills for different player classes;
A network of military academies for training troops;
Mysterious Mage Tower;
Unique ability of the orc race – Adrenalin.
«Champion of the Arena»
Arthur – a young mercenary from the Endoria world – signs a contract with the merchant Lew Klisan. He undertakes the task of winning all of the fights in a gladiatorial arena and bringing the first prize, the Champion's Belt, to his employer. Unfortunately, the sly merchant did not warn the young man that this arena is located in the enigmatic Litani world and he is expected to fight nightmarish creatures. Arthur will require all his skills to carefully choose his allies, equipment and troops to be able to defeat all eight monstrosities in the Thousand Emperors Arena.
Five new hero skills
Eleven armor-bearers,
Nine guilds of different races – each one has difficult assignments for our hero,
Eight ferocious Arena bosses,
Seven unique enemy heroes.
«Defender of the Crown»
Having defeated the horrific Baal, Princess Amelie is coming home. It looks like the best time to relax and enjoy a tranquil life. The valiant heroine just needs to complete her education, pass her final exam and receive an honorary Defender of the Crown degree. Sounds like a mere formality? Not at all. Amelie needs to do her best, because it is her life at stake in this final trial prepared by the harshest examiners.
Six fierce battles in unique arenas,
Three new heroine skills,
Random enemies and allies.
Campaign editor
This complete toolbox allows you to alter the game and create your own campaigns with a unique story, characters, buildings, items and maps. Comprehensive manual is included on the game DVD.
Game mode: single player
Media type: 1 DVD
User score: 8,1 / 10 based on 217 votes.
Pre-release expectations: 9.6 / 10 based on 15 votes.
PEGI rating King's Bounty: Crossworlds Game of the Year Edition
King's Bounty: Crossworlds Game of the Year Edition System requirements
Recommended:
Pentium 4 3.2 GHz
2 GB RAM
graphic card 256 MB (GeForce 7600 or better)
Windows XP/Vista/7